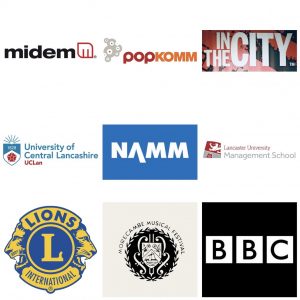 David Wood has a strong belief in pro bono charity, community and industry involvement.
He offers as much time as possible to good social causes in the industries he opperates in.
At Present
Mentor
David has mentorship roles with two wonderful young professionals.
Work Experience Placements
David offers higher education work experience placemnts so students can gain knowledge.
National Association of Music Merchants
Through Promenade Music, David is a member of the National Association of Music Merchants [aka NAMM] and share their belief that "music and music education can improve individual lives, communities and indeed make the world a better place".

The Past
David has been involved with several organisations including:
Morecambe Musical Festival
In the mid 1980's David sat on the committee of my local Morecambe musical festival.
The British Broadcasting Corporation
Between 2005 and 2007, David was one of the twelve BBC Local Advisory Council (LAC) members.
The role was to represent the listeners and viewers of Lancashire and offer advice and feedback on BBC programmes and services.
David says "It was an exciting time within the BBC, particularly in the North of England, as there were big changes ahead with the BBC's accountability under the new Royal Charter which started in January 2007; and the move of staff to MediaCity".

More Music in Morecambe
See the Non-Executive Director page.