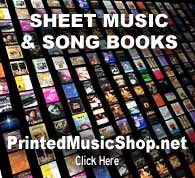 The Printed Music Shop website can be found at printedmusicshop.net
Printed Music Shop is a strategic partnership between David Wood's Promenade Music and Music Exchange (Manchester) Limited's MailMyMusic.
They have printed music for all instrumentalists, singers, teachers, bands, choirs, schools and educational establishments.
Their comprehensive stock includes over 100,000 titles of sheet music, tutors, examination music, educational and printed music books including classical, rock, pop, jazz, folk, country and much more.
David's involvement with Printed Music Shop .net began when he founded it in 2009. printedmusicshop.net is now a business cell of the diversified music business 'Promenade Music Limited' [Company number 09810805] of which David is the Founder, CEO and sole shareholder is.