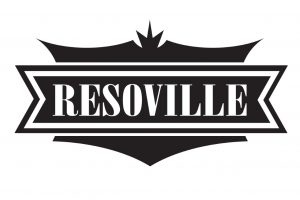 The ResoVille website can be found at resovilleguitars.com
David Wood established Resoville in 2014. ResoVille Resonator Guitars offer players an extensive range of hand-crafted resophonic guitars that are built by some of the World's finest specialist resophonic luthiers.
Every ResoVille is expertly made by Mr M and his small team of master luthiers who have many years of experience building fabulous resophonic guitars.
The Inspiration
When guitarists think of resonator guitars, they often think of the National and Dobro designs of the late 1920's. The ResoVille team are inspired by the life's work of the Slovak-American stringed instrument genius John Dopyera (1893–1988) who was the founder of the resonator guitar companies National [National String Instrument Corporation] which he co-founded in 1927 and Dobro [Dobro Manufacturing Company] which he founded in 1928.
The Music
If you love the playing of the likes of Son House, Bukka White, Ry Cooder, Jerry Douglas, John Hammond, Chris Whitley, Bob Brozman, Taj Mahal, Eric Sardinas, Tampa Red and Mark Knopfler (to name but a few) you should consider a ResoVille for your guitar collection.
The Workshop
Bordering the Huangpu River, the workshop is in the North-Eastern part of downtown Shanghai; and not too far away from the beautiful historical waterfront tourist attraction of 'The Bund', and the University of Shanghai for Science and Technology in Yangpu. The workshop has everything required to make our great resophonic guitars including several press machines, and all the molds required to make the full range of our metal guitar bodies. As well as metal guitars, the workshop also hand-crafts wooden bodies alongside all the necks required, and never forget, every ResoVille is handmade.
The Guitars
Our model line-up includes:
Metal Body Single Cone Round Neck Models Stamford (14 Fret), Parkville (12 Fret), Arlington (12 Fret Grid Hole Parlor).
Metal Body Tricone Round Neck Models Riverdale (14 Fret Cutaway), Riverdale Lefty (14 Fret Cutaway), Burbank (12 Fret)
Wooden Body Single Cone Round Neck Models Davenport (14 Fret), Edgewood (12 fret), Lincolnwood (12 Fret 1929 Style)
Wooden Body Tricone Round Neck Model Silverton (12 Fret Grid Hole)
Wooden Body Square Neck Spider Cone Model Hazelton (14 Fret)
Ukulele Biscuit Bridge Models Weeki Wachee (12 Fret), Weeki Wachee Engraved (12 Fret) Weeki Wachee Wood (12 Fret)
Mandolin Biscuit Bridge Model Burlington (12 Fret).
For some models, we offer a range of finishes including Nickel, Gold Brass, Red Copper, Black Nickel and Brushed Nickel.
David Wood's involvement with ResoVille Guitars began when he founded it in 2014. ResoVille is wholly owned by David and the IPO trademark mark number is UK00003647247.