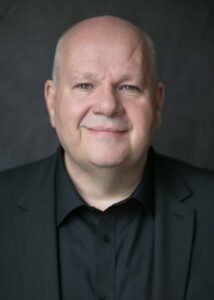 David Wood is a British investor, award-winning musician and businessman, Lancaster University Honorary Teaching Fellow and Entrepreneur in Residence, and University of Central Lancashire Leader in Residence. He has spent his entire business life working in the areas of music, media, entertainment, technology, intellectual property, manufacturing and retail.
David holds the post-nominal letters: HonDMus HonsFDip FRSA DipMusTh AMusLCM and after receiving a Doctor of Music honoris causa degree from Lancaster University, he became Dr. David Wood and was only the eleventh recipient of the honorary DMus award since the formation of the university in 1964. He joined previous recipients: Sir Arthur Bliss; Sir Michael Tippett; Sir John Manduell; Sir Edward Downes; Sir Simon Towneley; Dr. Yan Pascal Tortelier; Dame Janet Baker; Dr. Witold Lutoslawski; Professor Edward Gregson; and Princess Alexandra.
Through over forty years of experience – and a lifetime of study – David has accumulated an in-depth tacit and explicit knowledge of the industries he operates in, and with a multipotentialite entrepreneurial approach to business, he now focuses his business life on [1] Y1 Investments where he owns a stake in 377 enterprises around the world. [2] dwIP where he owns 12 UK trademarks. [3] Faith & Hope Records Limited (which he co-founded in 1997 and is a director and thirty-percent shareholder) who as well as having a string of charts hits – including a UK number 1 – have had their music on major Hollywood films, the adverts of world leading brands, and television programmes globally. [4] Promenade Music Limited (which he founded in 1989 and is chief executive officer and sole-shareholder) who are an award-winning music business that owns "one of the largest and best stocked music shops in the north of England".
David is passionate about music, the arts and his community. He is a Patron of The Halle; a Friend of Help Musicians, the ISM Trust, and the Royal College of Music; a Member of the British Film Institute, Lancaster Footlights, the Royal Northern College of Music, and the National Association of Music Merchants; and a charity host for the Box4Kids children's charity.
---
MORE DETAILS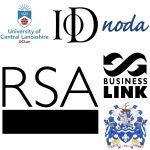 Accolades
David received an Honorary Doctorate from Lancaster University [2023] where he is an Entrepreneur in Residence and Honorary Teaching Fellow. He is a Leader in Residence at University of Central Lancashire's award-winning Faculty of Culture and the Creative Industries; and a past recipient of an Honorary Fellowship from the Independent Contemporary Music Awards [1987]; FRSA Fellowship from the Royal Society of Arts [2012]; NODA Musical Director of the Year Award from the National Operatic and Dramatic Association [1987]; Business of the Year Award after winning a category at the Business Link North Lancashire Business Awards [1997]; and had an entry in the Who's Who of Britain's Business Elite [2002].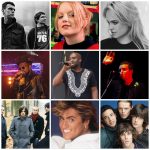 Music
As the co-founder of Faith & Hope Records, David's released tracks featuring World-class Artistes including: Mint Royale, Duffy, Lauren Laverne, POS (De La Soul), Prince Buster, Stone Roses, George Michael, Damien Jurado, Jez Williams, Andy Kim, Clodagh Rodgers, Stephen Fretwell and Manda Rin. He was behind the Chart Hits Singin' in the Rain (2008 #1 and 2005 Top 20), Gone up in Flames (2005 Top 40), Blue Song (2003 Top 40), Don't Falter (2000 Top 20) and Sexiest Man in Jamaica (2002 Top 20). He had a joint venture deal with Sony and entered major international Licensing Deals with Universal, EMI, BMG, Parlophone, JVC Victor Japan, ZYX Music Germany, MCA Records USA, Shock Records Australia, and many more. His artistes have appeared at International Festivals including: Glastonbury, T In The Park, V Festival, Homelands, Leeds & Reading, Creamfields, Isle Of Wight, Lowlands, Pukkelpop, Manifest and Benicàssim.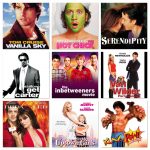 Entertainment
Through Faith & Hope, David has had Music on Movies including the films: The Inbetweeners; Vanilla Sky; Serendipity; Get Carter (re-make); The Hot Chick; National Lampoon's Van Wilder: Party Liaison; Uptown Girls; Blind Dating; New York Minute; Not Today; Kung Pow! Enter the Fist; A Time for Dancing; Bedazzled (re-make); Boy A; Fast Food. Had Music on TV programmes globally, including: The Inbetweeners (Theme Tune); Chuck; Spaced; Malcolm in the Middle; Shameless; Queer as Folk; Hotel Babylon; Buffy the Vampire Slayer. Had Music on Adverts of the world leading brands, including: Adidas; Volkswagen; Hugo Boss; Mentos; Kellogg's; Nokia; Toyota; Vodaphone; Sky; Mars; DFS. Had Music on Compilations, including: NOW That's What I Call Music! (#70 and #42); Ministry of Sound Annual; Top Of The Pops; Dance Nation Anthems; The Annual Ibiza; Pepsi Chart; 21st Century Disco; and many more.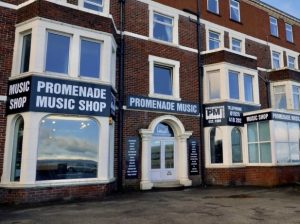 Retail
As founder, CEO and sole-shareholder of the award-winning musical instrument and music equipment business Promenade Music, David has traded successfully – in one of the world's toughest retail sectors – since 1989. He has "one of the largest and best stocked music shops in the North of England" and has supplied tens of thousands of customers, including the likes of: Neil Claxton [Mint Royale]; Alex James [Blur]; Slash [Guns N' Roses]; Joe Bonamassa [via Marshall]; Stuart Zender [Jamiroquai]; Chris Joyce [Simply Red]; Sam Fender; Chesney Hawkes; Big Country; Oasis… to name but a few. Promenade Music is highly respected by both customers and over one hundred of the World's leading iconic international music brands. The business operates twelve business cells which include: sale activities (retail, education, worship, etc) and a host of music services (hire, moving, storage, lessons, recording, importing, etc). They are also the sole 'UK home' for David's portfolio of trademarks as well as several international manufacturers. Take a look at Promenade Music's shop video.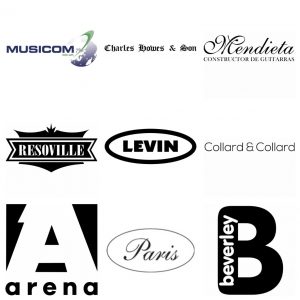 Intellectual Property
David has a range of interests in IP. As well as co-owning the catalogue of Faith & Hope copyrights, he also owns a portfolio of IP that includes the sole ownership of twelve UK musical instrument trademarks that are registered with the intellectual property office, the official government body responsible for intellectual property rights in the United Kingdom. His trade marks include: Charles Howes & Son (pianos and stools); Mendieta (classical guitars); Beverley (drums, percussion, mallets); Levin (guitars, basses, banjos, mandolins, straps); Arena (microphones, stands); Paris (woodwind instruments); Collard & Collard (pianos, stools); ResoVille (resonator guitars); Shindo (orchestral bows); Glenlaw (cables); Briggs (violins); and Moretti (accordions).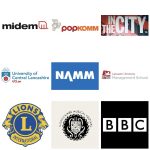 Community Involvement
David is a passionate supporter of music, the arts, and his local community. He is a Patron of The Hallé who are a Manchester based professional symphony orchestra that have a choir, youth choir, youth training choir, children's choir, and youth orchestra. Member of the British Film Institute who are the lead organisation for film and the moving image in the UK. Member of National Association of Music Merchants who are the World's largest musical instrument industry trade association and also known for its annual NAMM Show. Member of Footlights the amateur group who own and operate the Lancaster Grand Theatre – which is the third oldest theatre in Britain – and where David and his children all played in the orchestra pit as teenagers. Volunteer at Morecambe Winter Gardens where David occasionally deputises as guest organist. Member of the Royal Northern College of Music and donor to the 'support a student' scheme at the RNCM where his son Harrison was an undergraduate in Manchester. Friend of the Royal College of Music and donor to the 'scholarship programme' at the RCM where his daughter Jess was an undergraduate in London. Friend of Help Musicians who were formally known as the Musicians Benevolent Fund and offer musicians a dedicated mental health support line (0808 802 8008) which is available 24 hours a day, seven days a week. Friend of the Independent Society of Musicians Trust which is the sister charity of the ISM who are advancing music education, the arts and promoting health of musicians. Charity Host for Box4Kids the Lancaster based charity who invite seriously ill children to enjoy an event from the comfort of an executive box. Archivist for Lancaster Red Rose AODS the Lancaster based Amateur Operatic and Dramatic Society that David was musical director for in the late 1980's. Member of the Lancaster & Morecambe Chamber of Commerce who campaign on local, regional and national issues that affect businesses in their local area. David is an Advocate and Non-political Campaigner for: [1] One-to-one instrumental music lesson access and equity for all children… who want them. [2] Digital access and equity for all children. [3] Better mental health provision for people in the music sector. [4] Better teaching of entrepreneurial skills in higher-education music. He also does selected Pro bono Work as a: Guest Speaker (for higher educational institutions); Music Conference Panelist (who has appeared at Popkomm, In The City, and Midem international music conferences); Music Industry Commentator (for respected international media outlets and broadcasters); and Competition Adjudicator (for national competitions).
Past Involvement
David's Past Business Activities include: Self-employed child and then professional Musician, Musical Director and Bandleader (1978 – 2000); the founder and owner of the jingle and recording business St Aubyns Sound Recordings (1986 – 1988); the owner of Yamaha Music School Morecambe (1987 – 1997); the founder and owner of the custom made aluminium flight case business Flightplan (1994 – 1998); co-founder and co-director of Faith & Hype which was the press and PR arm of Faith & Hope Records Limited (1998 – 2002); and the co-founder and co-director of Art & Science which was the club night arm of Faith & Hope Records Limited (1999 – 2002). David's Past Advisory Roles include: An eleven-year advisory role with Safra Republic Holdings S.A in respect of music, media, entertainment and intellectual property (1988 – 1999); a five-year advisory and supplier role with the mobile entertainment company Monstermob (2000 – 2005); and VGTRK (a three-year advisory role on the potential commercialisation of former soviet state all-union radio official network IP from 2008 to 2010). David was also a Member of the Institute of Directors (2021 to 2023); Member of the Music Industries Association (at various times); Member of a BBC Local Advisory Council (2005 to 2007); Committee Member of the Morecambe Musical Festival (1985 to 1988); and Trustee of More Music in Morecambe (the UK based music and education charity, from 2010 to 2014).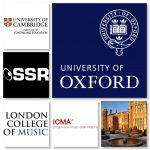 Life-long Learning
David has a love of continuing education and is currently studying 'stock trading' at the New York Institute of Finance through the American MOOC provider edX. His previous in-person educational journey includes: Studying at University of Cambridge for an undergraduate certificate in operational business and management (which was designed in collaboration with Cambridge University's Judge Business School and delivered by Cambridge University's institute of continuing education); attended a University of Oxford management and business skills programme (in relation to technology, commercialisation and psychology at Oxford University's department for continuing education); attended a Guildhall School of Music & Drama executive coaching and mentoring course; studied for a London College of Music AMusLCM associate diploma (in harmony, counterpoint, musical form and history of music); studied for a ICMA DipMusTh diploma (in music theory); attended a Lancaster Adult College law course; attended a Manchester SSR sound recording course; attended a Huddersfield Technical College music course at the college's School of Music; and Autodidact Study have included music, retail, law, business, finance, and investment strategies.
Personal Life
David has an incredibly musical family. His son Harrison Wood and daughter Jess Wood are both multi-award-winning professional musicians; his late mother Barbara Briggs [married name, Wood] was a singer and pianist; his partner Rachel Lucy Moore is a chamber music and cello teacher at the Junior department of the Royal Northern College of Music; his daughter-in-law Linzi Matthews [married name, Wood] is an actress who has appeared professionally on stage and screen; and his mother-in-law Miriam Morley is the professional violinist who has taught at the Royal College of Music in London for many decades. David also has Other Musical Family.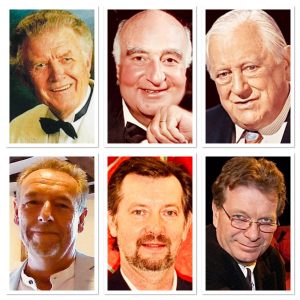 Life-changing Mentors
David had six life-changing mentors and influencers. They include: The late Major Peter Parkes, an award-winning conductor and one of the World's most successful brass conductors. The late Edmond J. Safra, one of the most accomplished bankers in history. He was the founder of Safra Republic Holdings SA, Republic New York Corporation, Republic National Bank of New York, and the Trade Development Bank. The late Sir Denis Forman OBE , the former Chairman of Granada Television, Deputy Chairman of the Royal Opera House Covent Garden, and Chairman of the British Film Institute. Keith J. Harris , the founding General Manager of Promenade Music. Doug D'Arcy, the former president of Chrysalis Records International, Director of Chrysalis Group Limited, founder of Dedicated Records, and a co-shareholder with David in Faith & Hope Records. The late Anthony H. Wilson, former broadcaster and the co-founder of Manchester's Factory Records and The Hacienda nightclub.
Early Life
David had a Musical Childhood and some great Music Teachers. In the mid 1980's and 90's, he had a diverse Early Professional Life that included working as a self-employed musician – playing somewhere in the region of four thousand gigs – as an instrumentalist, musical director and bandleader for live, theatre and studio work. He also worked as a studio engineer and producer – in his own small home studio – creating tracks, jingles and ringtones; as well as doing some freelance work for a music publisher as an arranger, proof-reader and copyist; and building a successful music teaching practice where his pupils had a one-hundred percent pass rate in graded and diploma examinations. From the beginning of the 2000's, David has concentrated on the commerce element of industry. Through the businesses he owns – and the advisory roles he has held – he has first-hand professional experience of management, operation, commerce, and corporate governance; as well as a high-level C-suite working knowledge of sales, negotiation, retailing, e-tailing, marketing, manufacturing, international trade, distribution, logistics, intellectual property management, digital rights management, contract law, financial management, strategic planning, and organisational behaviour.