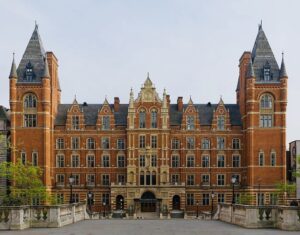 David Wood is an 'RCM Friend' and donor to the Royal College of Music's scholarship programme.
The Royal College of Music is where David's daughter – the percussionist Jess Wood – went to study on an RCM scholorship. Jess graduated with a 1st class BMus(hons) degree and also collected their prestigious Royal College of Music Tagore Gold Medal award for the female student who was judged to have made outstanding contributions musically and in other important ways to the life of the college. David's partner Rachel Lucy Moore also studied there at the Junior department of the RCM; and her mother -the violinist and violin teacher Miriam – studied there and has taught there for many years.
Being an RCM Friend is a great way of showing support for young musical talent supporting the RCM scholarship programme can go a long way to removing students financial concerns of studying at RCM; and for many, a scholarship makes the dream of studying at the RCM a reality. More than 50% of current students receive some financial support, thanks to the generosity of individuals, legators, companies and charitable trusts. If you would like to also support the RCM and provide vital funding to aspiring young musicians, regardless of their background visit the RCM support a scholarship page or call the RCM on 020 7591 4300 and speak to their Philanthropy Manager.
Founded in 1882, the Royal College of Music is a world-leading music conservatoire with a prestigious history and contemporary outlook. Their circa 800 undergraduate and postgraduate students come from more than 60 countries, and appear in over 500 events each year, which take place all over London including Cadogan Hall and Southbank Centre. Among their alumni are composers and performers such as Benjamin Britten, Gustav Holst, Samuel Coleridge-Taylor, Lord Lloyd Webber, Dame Joan Sutherland, Dame Sarah Connolly, Elizabeth Watts, Ralph Vaughan Williams, Mark-Anthony Turnage and Sir Thomas Allen.