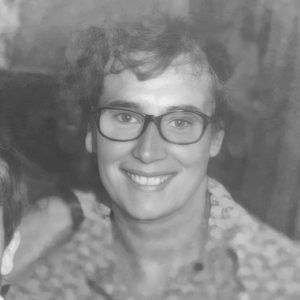 Born in Wakefield on the 22nd January 1930, David's late mother Barbara Briggs [married name Barbara Wood] was a fine pianist and singer who went on to entertain thousands of people.
As a child, Barbara was a studious girl who excelled at both maths and music whist at St Andrews primary school in Wakefield. She had a very keen musicial mother [David's nan, Daisy], and got up to "cap and gown" [diploma] standard on piano by the age of fourteen. Although Barbara got up to 'diploma standard', she never actually sat her cap and gown, but it was war time and maybe there were other factors that stopped her. As a school girl, her ability on the piano resulted in her being the go-to-pianist at her high school (St John's Girls School in Wakefield) and she accompanied the school choirs and her fellow students for their instrumental graded exams.
Barbara left school at 14 years old and her love of maths and music took her into her first jobs.
In 1944 Barbara's love of maths took her into her first paid day job as a junior book keeper at Lewis P Hughes' Italian Warehouse which was an institution in Wakefield and had been based in the Bull Ring since 1785. When she began working there, war time food rationining was still in place, but after rationing ended, Hughes' was a grocery emporium that was crammed full to the rafters with necessities from the likes of sugar, bacon, and butter through to exotic food [exotic at the time] like pasta, rice and marmite.
Also in 1944, Barbara's love of music and her musical talent, took her into her first paid evening job fronting a big band as the singer towards the end of World War II. Like Barbara's mother Daisy who played the horn, Barbara's uncles – Reg and Ted Adams – were both excellent brass players [cornet] in brass bands, and her uncle Bill [Adams] played trumpet in a semi-professional big band in Wakefield. Seeing his niece's talent as a young singer, Bill got Barbara her first the job fronting 'The Wider Big Band'.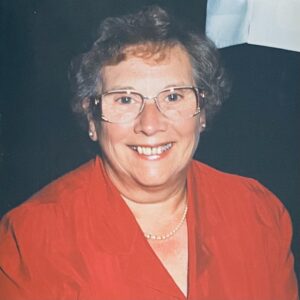 By 1945, Barbara was 15, the war had ended, spirits were high, and everyone wanted to party. For the next couple of decades, there was no better time to be a working musician and Barbara gigged extensively often doing multiple gigs a day at weekends. It was one Saturday afternoon gig in 1945 when she met her future husband – David's dad Syd Wood – at the Music Salon which was a dance hall on Wood Street in Wakefield [the old Wakefield City Museum building].
Barbara and Syd married in 1949 at St Andrew's Church in Wakefield, and Barbara worked in accounts as a book keeper for a farm supplies business in Wakefied in the day, and gigged in an evening.
In 1972, Barbara crossed the peninnes after she and Syd got a job to manage The Welson Hotel for blind people in Morecambe. Barbara sang and played the piano in the hotel four nights a week and still took on a few other gigs. They continued at the Welson until around 1985.
After 1985, Barbara continued doing book keeping and when her son David started his own business, she was his book keeper from 1985 until 2010 when she was 80 years old. Barbara looked after the books for all David's ventures [Promenade Music, Faith & Hope Records, etc].
Barbara stopped gigging after leaving the Welson in 1985 but continued to play played all the way through to around 2005 at her beloved Heysham Free Methodist Church. From the church's days in the hall on Middleton Road Heysham, to the house church at 416 Heysham Road, on to their Emmaus Road Church in Heysham where they still are. She only stopped playing when her arthritic fingers caused her too much pain to carry on playing.
Between 2014 and 2016 David and Barbara ended up living together, "these were some of the loveliest times of my life". said David. "Mum and I would just sit and talk about everything from her early life as a singer to the hilarious stories of her gigging. My main memories will be that she was a lovely, kind, supportive, and talented lady. I'll always remember what a wonderful musician and singer and how the best parts of my childhood were when we played and sang together and when she was teaching me to play all those beautifully voiced chords she could put down".
Barbara was a fantastic pianist and singer and said that she was "more at home in light entertainment". She passed away on the afternoon of 23rd August 2023 aged 92 at the Mayfair Residential Home in Morecambe.