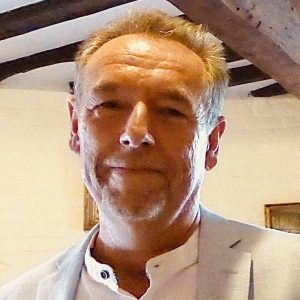 David Wood initially met Keith James Harris in 1984 when Keith was managing a music retail business in Morecambe called Harker & Howarth (which as a child, David loved to visit). When Charles Harker – the owner of Harker & Howarth in Morecambe – decided to close his shop, Keith wasn't interested in driving down the motorway to work at one of Charles' other shops, and asked David if he was interested in opening a shop… and he was.
Keith became the general manager of Promenade Music in 1989, and ran it for circa twenty-five years until his retirement. When Promenade Music opened David was 23, and although he was the owner, apart from the study he had done, he knew "very little" about music retail.
Many people assume that David was the driving force behind the early business success and expansion; but David says "It wasn't. It was Keith. People also don't realise that in those very early days, Keith put six-day weeks in to get the business established. He was a great salesman, but more importantly, he was a good musician, good businessman, and knew an awful lot about music retail. Over the next twenty-five years, he was willing to take me under his wing and, unconditionally share his music industry knowledge with me. Although Keith 'plays it down', he is a very good musician. When I first met him, he was gigging in a cabaret duo (that did very well) and had previously played guitar in several bands.
Keith set David a great example of life-long learning. As an adult, Keith studied music theory at Lancaster Adult College; and although already a good pianist, continued his piano studies with Douglas Walker (an excellent piano teacher) and went through some of the higher classical grades.
Keith could effortlessly demonstrate many instruments (pianos, keyboards, guitars, saxophone, banjo etc) and his knowledge of 20th century musical instrument manufacturers and manufacturing is quite simply encyclopedic.
Keith is without doubt the closest mentor David had. "He is talented musician, a great businessman, and the very sharpest knife in the draw when it comes to gut instinct, nous and wit" David says. "Keith has been a rock in both my business and personal life; and if there hadn't been Keith Harris, there wouldn't have been Promenade Music.