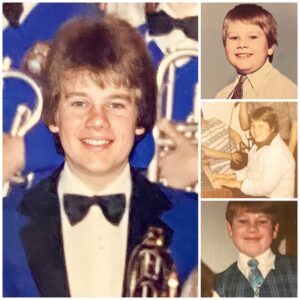 Born in Wakefield in 1966, David Wood and his parents moved to the seaside town of Morecambe shortly before David's 7th birthday. Up to the age of 7, his mother Barbara (a singer and pianist) and grandmother Daisy (a singer and horn player) began him on the road of music with Barbara starting him on a single chord organ, and Daisy starting him on theory. Both were very keen that music was a big part of David's childhood and future life.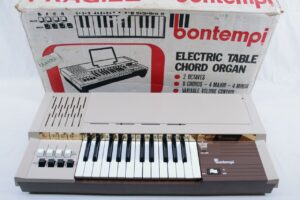 1971: At the age of 5.
David's musical childhood started on Christmas day 1971 when his parents bought him a Bontempi B4 for Christmas. The B4 was a very simple instrument with a 25 note keyboard for the right hand and 8 chord buttons for the left (4 major, 4 minor). David was "obsessed" with the bontempi, it was air powered and blew air over reeds like an harmonica works. The keys were numbered and books were available with notation that was numbered. For David, "it was great fun".
1973: At the age of 7.
David began weekly trombone lessons with John Disney; piano and singing lessons with Madam Patti Regina; and music theory lessons with Sam B Wood. The Welson Hotel in Morecambe – that David's parents had moved over from Wakefield to manage – had an old piano for him to practice on. It was a 'Squire and Longson Est 1829 London' tall upright piano which was in good condition for its age. As a young lad, with it having 'Est 1829', David thought was the year it had been made. In later life, he discovered that it had been made by the Kemble piano firm [who his Promenade Music Shop was a piano dealer for].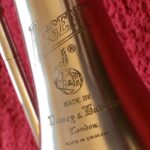 His first trombone was a chinese made Lark which he got for Christmas 1972 from Bruce Hobbs who had a tiny shop in Sir Simons Arcade in Lancaster. He started having a few lessons in a group with Jim Grizedale – a peripatetic brass teacher who came in to Great Wood Primary school – but David's parents stopped his lessons with Mr Grizedale and he began lessons with John Disney.
After David's grandmother saw the Lark trombone, she was horrified and wanted him to have a better trombone to learn on; so for his seventh birthday, he got an English made Boosey & Hawkes Regent model, which although a student model, was far better than the Lark. [Mr Grizedale isn't on David's former teachers page because he only had a few months of lessons with him].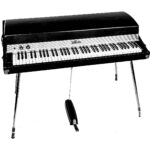 David could also practice on his mum's [Barbara] Fender Rhodes Mark I Stage Piano that she bought in Leeds, just shortly before she moved to Morecambe in 1972. David recalls, "she played it through a Fender twin amp she got from a guitatist who'd fallen on hard times.
Her Mark 1 was basically the piano section from the suitcase model Fender had been making so she had to use an amp as hers didn't have amplification like the suitcase model had.
It only had a volume and EQ control; and mum didn't want the wooden / wood and plastic hammers on the older models; so so went for the one with the replaceable rubber tips. Mum had the option of buying the brand new 88 note model – but she thought it was too heavy and would take up too much room in the guests lounge [in the Welson Hotel] – so opted for the 73".

1974: At the age of 8.
After having weekly trombone lessons with John Disney for a year, John – who was the band leader of the Lonsdale District Scout and Guide Band – invited David to join the band. David only played with the band for around three years – 1973 to 1976 – but it was his first experience of playing in an ensemble
1975: At the age of 9.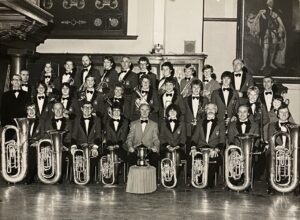 David joined the Morecambe & Heysham Silver Band, which was under the baton of John Fleming at the time. David began by just sitting in with the band for rehearsals but soon progressed to playing Bass Trombone for small concerts and when the band played in parks.
The band traces its history back to circa 1875 and is now known as Morecambe Brass Band. [Left: Band photo from circa 1982] Although David only played bass trombone with the band until he was 17, the band remains close to his heart.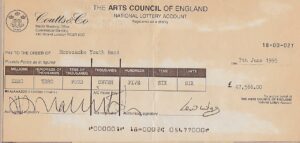 In 1994, the band became one of first projects to get National Lottery funding and received a cheque for £47,566 in June 1995 to purchase of 24 brass instruments for the Morecambe Youth Band (which were purchased from David's music shop).
In June 1995, the National Lottery cheque number 000001 was presented by the entertainer Danny La Rue – at a ceremony at the City Varieties Music Hall in Leeds – and David joined the band when they played on the National Lottery Show that was broadcast live on BBC1.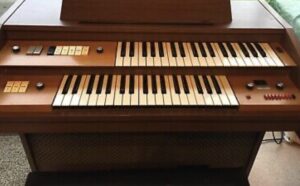 It was around this time that David's dad [Syd] started taking David into Harker & Howarth's Music Shop in Morecambe. David's dad bought him an 'end of line' Italian made 'Welson Festival' electronic organ [as pictured].
"Although I loved that organ, it was pretty terrible in every way" says Daid. He continues, "I couldn't believe it when Welson managed to get Jerry Allen as their demonstrator in '82; this is the guy who'd been known for playing Hammond and Lowrey, and he was now playing Welson[?!]". Jerry Allen (1925-1985) was a brilliant organist and his association with Welson organs was short lived, as he died in 1985, just short of his 60th birthday.
Harker & Howarth's also had a teaching school run out of their Lancaster organ showroom – which was on the first floor of their Kings Arcade shop – and David had group organ lessons with their organ salesman [Alan Loat] where people had organ lessons on headphones. Alan isn't on David's former teachers page because he only had a few months of lessons with him.
1976: At the age of 10.
David's parents extended his weekly musical lessons to include: Trombone lessons with Bill Ibbotson (after stopping lessons with John Disney); organ lessons with Ronnie French (after stopping group lessons with Alan Loat); bass guitar lessons with David Kellett; whilst still having piano and singing lessons with Madam Patti Regina, and music theory lessons with Sam B Wood. Knowing how keen David was to practice, some of the aforementioned teachers didn't charge his parents for the lessons they gave (for which David is eternally grateful for).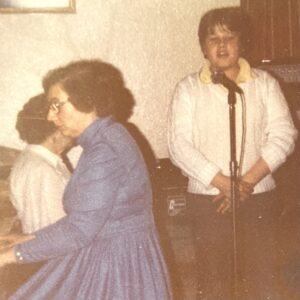 It was around this time that his father Syd, encouaged David to play to the guests of the Welson Hotel in Morecambe. The hotel was managed by David's parents for the institute of blind welfare and he found the audiences to be "very forgiving". As a ten-year-old boy soprano, David really didn't enjoy the repertoire he was singing in the hotel. He had been having singing lessons with Madame Patti Regina since he was seven; and although she was an excellent teacher, he says that Madame Patti had him singing "grim songs" for a ten year old; and continues: "Although these weren't 'proper gigs', singing in the hotel was the first time I'd earned a bit of money as my dad passed around a 'tip jar'.
There's no doubt that this fuelled my interest in practicing and getting better, but I wanted to sing more popular songs and felt the classical and sacred songs I was singing, were fine for festivals and concerts, but not for the hotel". The songs he's referring to that were in his set list when he was ten includes the songs: Alpine Song [John Ireland's 1911 lieder from an old German Folksongs]; Silent Worship [the Arthur Somervell's adaptation of Handel's operatic aria from Tolome]; Westering Home" [Hugh Roberton's 1939 published song that was adopted as the slow march of the Navy]; Sailing Westward [Alfred Noyes poem set to music by Edward Elgar]; A Clean Wind Blowing (by composer and organist Eric Thiman]; and Three Fine Ships [by the Eton educated composer Thomas Dunhill).
1977: At the age of 11.
David stopped having piano lessons with Madame Patti Regina after she retired – and due to her basement flat been flooded in the Morecambe floods in November 1977 – and began having weekly singing and piano lessons with Susan Fielding in December 1977.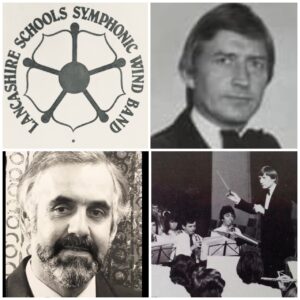 He auditioned and joined the Lancashire Schools Symphonic Wind Band [LSSWB] on bass trombone; and at the time, the band had only been set-up a year earlier and was directed by the Lancashire county area music advisor Carl Sidgreaves (and then later by Geoffrey Balson). David played on-and-off with the band until he was 17, playing many concerts and went on their tour of Yugoslavia in 1983. The band is now known as the Lancashire Youth Concert Band.
By the beginning of the summer of 1977, it was David's second year playing in 'The Welson Hotel for the blind' and he was hating the classical and sacred songs – he had sung in the hotel the summer before – even more. He says, "I ended up ditching the singing and concentrated on playing the organ and trombone".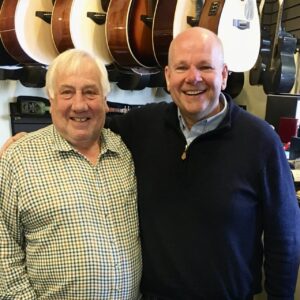 By now, David was going in to his local music shop – Harker & Howarth's – as much as he could. He was obsessed with musical instruments and loved the vibe of a music shop. The father and son owners of the shop – Tom Harker [1916-1986] and Charles Harker [1945-2022] – were very kind to David and let him visit whenever he wanted.
David says, "I must have been a right nuisance! I was in there all the time and Tom and Charlie would leave me to try and play whatever I wanted. I know I repaid their kindness though; when a customer was thinking of buing an organ – and the customer was worried that learning may be a bit too difficult for them – he'd say to them "this young lad's only eleven and he's only been playing a couple of years", then ask me to play them a little tune. I'd play something like tico tico and Tom would close the sale".
1978: At the age of 12.
Having had singing lessons for five years, David's mother and grandmother wanted David to take his singing far more seriously. Although he was being featured in concerts as a boy soprano soloist – still singing the same old sacred and classical repertoire he didn't enjoy – his Grandmother Daisy – and his new singing teacher Susan Fielding – realised, do get David back on track, he was very keen to sing more 'light entertainment' songs that would appeal to the hotel guests in the hotel his parents managed. In early '78, his grandmother gave him a new 'hotel set list' [see below] that David could perform using voice, trombone and keys; and all the songs were learned and ready for the '78 summer season… and the 'tip jar' overflowed.
1978, also saw another new teacher for David as he began having theatre organ lessons with Harold Graham (on an ad hoc basis). Although David was far more interested in the entertainment organ repertoire, his trombone teacher – Bill Ibbotson – made David realise that if you live on the Lancashire seaside coast, it wouldn't be long before you would be asked to play theatre organ for dancing.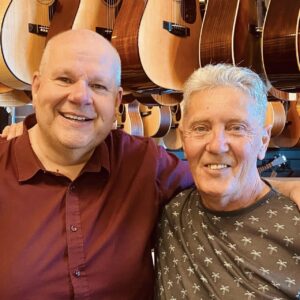 David was also getting a lot more experience of entertaining by playing '15 minute guest spots' – on trombone and organ – in the pubs and working men's clubs his father Syd frequented. David was spotted by a young Morecambe entertainer – John Jeffries – who booked David to play his first 'proper gig'; and David received £100 to do a new children's novelty act set (playing trombone and keys) at Milnthorpe Working Men's club on New Years Eve 1978. [Picture of David and John Jeffries later in life]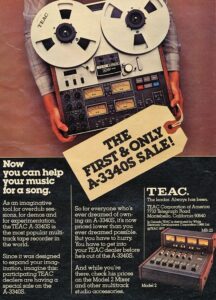 That year, David had been saving up his 'tip jar' money from playing in the hotel (his parents managed) and decided to buy his first multitrack recorder. He managed to get a six-month old Teac A3340S 4-track complete with their 2A mixer and VU meters from an elderly pro sax player couldn't use it because it was too complicated for him. The A3340S was a 2-speed 4-track with simul-sync heads that allowed David to record each track separately whilst monitoring the others. David loved recording and it became a big part of his future life.

David also bought a new Yamaha Trombone called the YSL354 that had come out a couple of years earlier.
[David's 1978 'Hotel Set' included the tunes: Consider Yourself (Oliver!): Let There Be Peace on Earth; Tonight (West Side Story); Where Is Love (Oliver!); The Candy Man (Willy Wonka & the Chocolate Factory); The Old Rugged Cross; Climb Every Mountain (Sound of Music); Danny Boy;  If I Only Had a Brain (The Wizard of Oz); Mother of Mine; Long Haired Lover from Liverpool; and You'll Never Walk Alone (Carousel)… and for an encore [if needed], We'll Meet Again.

1979: At the age of 13.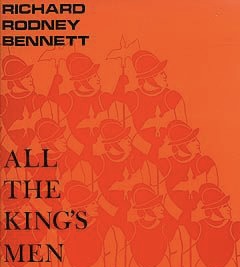 After doing many performances and festivals as a boy soprano, David was cast as the King in Sir Richard Rodney Bennett's 'All the King's Men' which had a libretto by Beverley Cross. Based on an incident in the English Civil War, the 40 minute opera for young people was first published by Universal Edition in 1968.
From 1979 – when David played the King – David remained in-touch with Richard who was very supportive of David's future career. Richard loved hearing about what David's children were up to musically and was at Harrison's [David's son] headline gig for the 'Brit Jazz Festival 2011' at Ronnie Scott's with the Beats & Pieces Band [3/4/2011] as the following night Richard – and Claire Martin – played Ronnie's as part of the same festival. Richard and David remained good friends up until Richard's death in December 2012.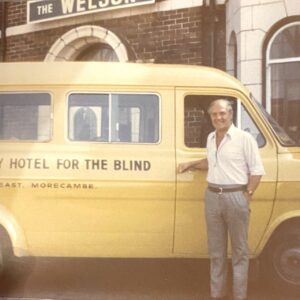 After receiving his £100 fee for the New Years Eve gig at Milnthorpe Working Men's club, David knew he had to work hard through the rest of the winter to put together a 'pub and club' set for gigs. He began analyzing which songs went down well for other performers when he was out doing his '15 minute guest spots' in the pubs and clubs with his dad; and began making lists of songs that "went down well" with audiences.
He put the songs in to four categories, analysed the tempos, and decided that only three songs [Long Haired Lover from Liverpool; You'll Never Walk Alone; We'll Meet Again] would remaim in his now set for pubs and clubs from his 'hotel set'. Although he was loving doing the guest spots, he hated the way his dad got him to the gigs… in a massive bright yellow mini bus! "This was so uncool for a little fat lad who was trying to be cool".
He quickly realised that the types of songs that would work fell into four categories.
Category #1: Tunes with a feel of 2, straight 4/4 swing or bounce swing feel; that made the audience sway and sing-along. Songs included: Long Haired Lover from Liverpool; You'll Never Know; Pennies From Heaven; You Made Me Love You; Who's Sorry Now; Volare; You're Nobody till Somebody Loves You; The Birth Of The Blues; Raindrops Keep Fallin' on My Head; Misty; The Birth Of The Blues; Don't Get Around Much Anymore; L-O-V-E; Slow Boat To China; Bye Bye Blackbird; Side by side; We'll Meet Again
Category #2: 125bpm to 170bpm Tunes with a feel of 2, straight 4/4 swing or bounce swing feel; that made the audience smile. Songs included: Hello Dolly; Sweet Georgia Brown; When You're Smiling; Pennies From Heaven; If I ruled the world; Yes Sir That's My Baby; Cararet; Save all your kisses for me; I'm Gonna Sit Right Down And Write Myself A Letter; Save all your kisses for me; Lazy River; The Lady Is A Tramp; I Want To Be Happy; Waterloo.
Category #3: 75bpm to 80bpm Tunes to slow the set down in 12/8; that could include the audience in some way. Songs included: The Wonder of You; What a Wonderful World; You'll Never Walk Alone.
Category #4: 110bpm to 130bpm pop tunes with an 8-beat or 16-beat feel; that could get some audience participation. songs were: Knock three times; Living Next Door to Alice; Rhinestone Cowboy; Sweet Caroline; Hi Ho Silver Lining.

1980: At the age of 14.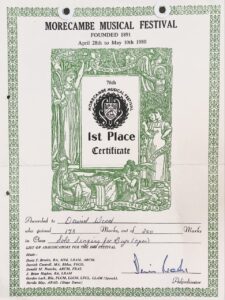 David's classical singing as a boy soprano was still going stong in to 1980 and he won first place in the Solo Songing for Boys (open) class at the 76th Morecambe Music Festival in the May. By this time,
David was more interested in light entertainment repertoire and played his first summer season doing his children's novelty act. Although only 14, he already had 4 years experience of playing in the hotel his parents managed and had quickly realised that playing a raucous, lively set of 165BPM up-tempo tunes [Hello Dolly, Down by the Riverside, Won't You Come Home Bill Bailey, If You Knew Susie, When You're Smiling, etc] pleased the seaside audiences and left them wanting more. David's interest in sound recording began to pay dividends around this time too, when he made and sold cassettes to the audiences at his summer season gigs.
He recorded the master on the Teac A3340S he had bought a couple of years earlier, and would take weekly bus trips up to William Towers' Reelife Recordings at Laverick Hall in Halton who offered a commercial cassette duplication service. Adding to Category #2 songs from the previos year were:  That'll Be The Day; All my loving; She loves you; I saw her standing there, Can't buy me love; Rock around the clock; Grease lightening; Shake, Rattle & Roll; Route 66; See You Later, Alligator.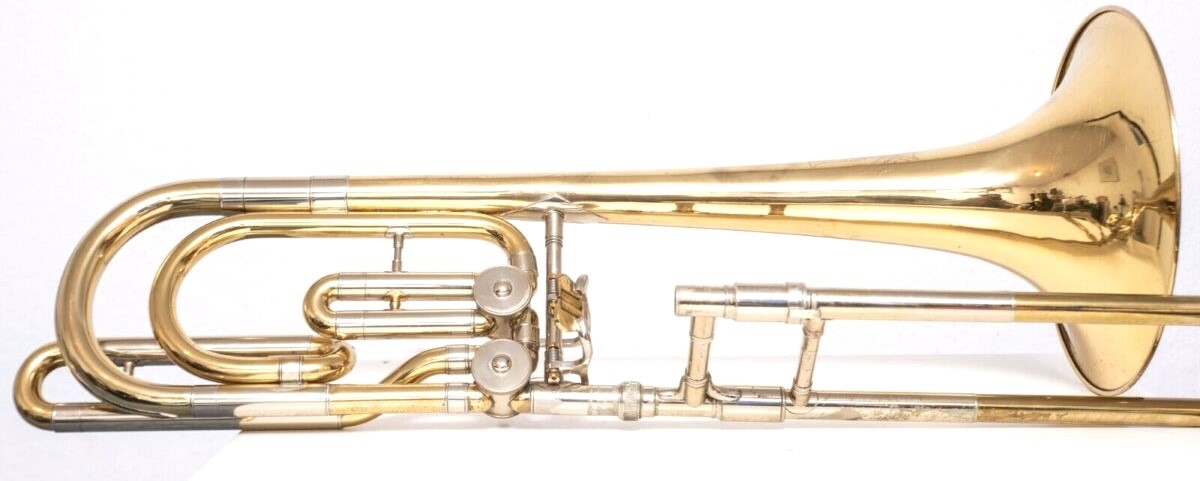 By 1980, David really needed a better tromone and it needed to be a bass trombone. Up until this point, he had been playing bass trombone parts on a tenor trombone and was struggling to get the lower register. David met a brass salesman called Peter Pollard – who he's remained lifelong friends with – who had a new – very old stock – Conn 73H Artist Symphony Bb Bass Trombone with F/E open horn double rotors. "My mid 70's 73H was the perfect spec for me" said David. (It's 9.5″ bell, 0.562″ bore and F/E triggers meant that when I played a chromatic scale, I didn't need not go past 5th position".

1981: At the age of 15.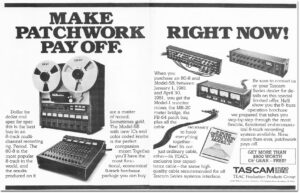 David began making and selling extended play cassettes that he had made – on his Teac A3340S – from 7″ vinyl singles and a Roland TR808 drum machine. He sold these cassettes to DJ's throughout the northwest (and some further afield) through a record industry van sales operation. The project did very well for David, and in the winter of 1981, David had enough money to buy a Teac 80-8 8-track recorder from a Morecambe music dealer called Jeff Normington.
In the summer of '81, David was regularly doing a five night summer season at various venues. He was getting 'guest artiste' spots all over, including: The function room at Morecambe's Broadway Hotel (often with Jim Bowen); the upstairs room of Morecambe's Kings Arms Hotel (for Don Estelle's 'Holiday Madness' show); and at Morecambe's Palace Theatre (for the 'This is Show Business' show with Ronne Coyles).
David always jokes ,"I was that good as a kid, I closed down the Palace". Although it wasn't David who closed down Morecambe's Palace Theatre, the following 1982 season was its last season as a theatre. Sadly, a possible new buyer [Robert Walker] was refused a drinks licence and therefore didn't buy it. At the time, it was Morecambe's last traditional theatre – as the Morecambe Winter Gardens had closed in 1977 – and after opening in 1910, the curtain fell for the last time at the Palace in October 1982 when it closed. [Sadly, Morecambe's Palace Theatre was demolished on Sandylands promenade in 1989; and on its site, an apartment block was built called 'Marine Court'].
It was around this time that David began to do more gigs in London. Whilst in London, he got to know some musicians who were playing with the National Youth Jazz Orchestra (NYJO); and over the next two or three years, Bill Ashton (the Musical Director of NYJO) occasionally booked David for the Bass Trombone seat when the resident players (Kenny Hamilton, Nigel Barr, etc) couldn't do a gig.
1982: At the age of 16.
David continued to play live gigs and another summer season throughout 1982; and continued to occasionally be booked for NYJO gigs when they were in the north.
Around this time, David's interest in recording continued; and with the encouragement and contacts of the Morecambe based record store owner Mike Hargreaves – who owned the local record stores 'Disco Music Centre' – David made his first 'more commercially' sold cassette in the breakdance craze of 1982.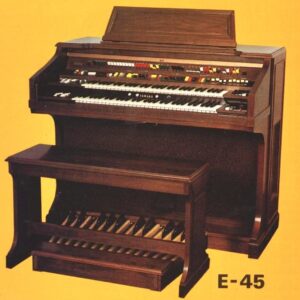 By the end of 1982, David had enough money to buy a Yamaha E45 Electone electronic organ, which is now a classic in the organ world. The E45 had been released the year before; and although David can't remember exactly how much Peter Brocklehurst charged him for it, David remembers it wasn't musch different to the cost of his 1983 'A' registration Triumph Acclaim that he bought in 1984. You still sought after by vintage home organ enthusiasts, it featured two 61 note manuals and a 25 note pedalboard. [Peter Brocklehurst remained great friends with David (until he passed away) and after retiring, Peter became a loyal customer of David's Promenade Music Shop].
After already deputising on bass trombone for Malcolm Doley's Lancashire Youth Symphony Orchestra (LYSO) a couple of years earlier; Malcolm [Lancashire's Senior Advisor for Music] already had David on his radar. When an urgent last minute request came in from the organisers of the National Youth Orchestra (NYO) for a dep bass trombone player, to play in a concert under the baton of Tim Reynish, David was asked.

1983: At the age of 17.
David was auditioned by Malcolm Doley [Lancashire's Senior Advisor for Music] when David wanted to study at Huddersfield Technical College's School of Music. Malcolm gave David a discretionary grant to study there and he made a move to live over in Wakefield in the autumn of 1983.
Whilst studying at Huddersfield, David had a break from doing his cabaret / function gigs but would occasionally deputise with various Yorkshire based brass bands including: The Yorkshire Imps, Wakefield Band [formerly, Sirdar Wakefield Band], and Grimethorpe Band.
1984: At the age of 18.
David became self-employed, got married ["yes, I was still a kid and way too young!"] and his early professional life in the music industry was diverse. [read more]