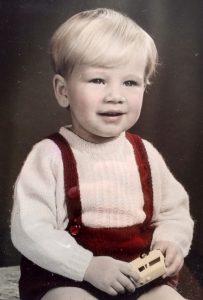 David Wood had a musical childhood with various teachers on a range of instruments.
He began weekly private music lessons at 7 and peforming at 10.
He played in a county at ensemble at 11 and played his first paid gig at 12.
Was cast as 'The King' in a Richard Rodney Bennett opera at 13 and played his first summer seasons at 14.
Began making and selling cassettes to DJ's at 15 and had his first commercially sold cassette at 16.
Played in a national ensemble and got a discretionary grant to study music in Huddersfield at 17.

The Long Story
Music was by far the biggest part of David Wood's childhood. When he was born, his parents were living in Wakefield, and moved to the seaside town of Morecambe around his 6th birthday. His mother (Barbara, a singer and pianist) and Grandmother (Daisy, a singer and horn player) were keen that he had weekly private music lessons.
By the age of 7, he was having lessons on Trombone (with John Disney), Piano (Madam Patti Regina) and Music Theory (Sam B Wood). And by the age of 10, he was having lessons on Trombone (Bill Ibbotson), Piano (Madam Patti Regina), Organ (Ronnie French), Bass Guitar (David Kellett), Singing (Susan Fielding), and Music Theory (Sam B Wood).
Around the age of 10, his father (Syd) encouaged him to play to the guests in the hotel his parents managed for the blind ("who tended to be a very forgiving audience"). This sparked David's interest in performing. Practicing and experimenting with recording equipment then consumed his adolescent life.
He joined his local brass band; played in Lancashire county ensembles; travelled to London to dep in the National Youth Jazz Orchestra; entered – and occasionally won – music festivals; and as a boy soprano, played the King in the children's opera 'All the King's men' by the late Richard Rodney Bennett.
He got lots of experience playing 15 minute guest spots in the pubs and working men's clubs his father frequented. This led to him playing his first proper paid gig at the age of 12, when he received £100 on New Years Eve 1978 at Milnthorpe Working Men's club.
His interest in sound recording began to pay dividends when he was 14 when he sold cassettes that he had recorded at his first summer season in 1980. From the age of 15, he gigged and recorded, either making cassettes to sell at gigs, or making extended play cassettes from 7″ vinyl singles and a drum machine for northwest DJ's.
When he was 16, with the encouragement and contacts of a Morecambe based record store owner called Mike Hargreaves who owned the Disco Music Centre, he made his first more commercially sold cassette in the breakdance craze of 1982.
He auditioned for Lancashire county chief music officer Malcolm Doley, who gave him a discretionary grant to study at music at Huddersfield Technical College in 1983.