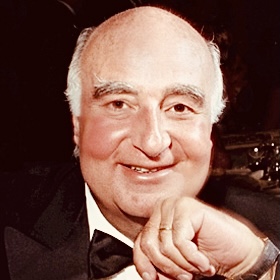 David Wood initially met the late Edmond J. Safra [1932-1999] in 1984 through playing at Mr Safra's homes. David found Mr Safra to be a very professional gentleman; who was kind, gracious, incredibly supportive, and appreciated everything people did for him.
Over the following years – until Mr Safra's murder in 1999 – David proved himself to be reliable and Mr Safra seemed to like the way David conducted himself. After several conversations, David told Mr Safra that he was interested intellectual property and in 1988, Mr Safra gave David the oppotunity to work with one of his legal teams on a project accessing the asset depreciation – and therfore opportunity – of soon to be out of copyright (into public domain) – material and catalogue valuation for two of Mr Safra's clients. Ultimately, David advised on the music, media, entertainment and materials intellectual property [copyrights, trademarks, design rights, patents] interests of various Safra clients.
Mr Safra built a business banking empire that spanned the globe and had a reputation for being one of the most accomplished bankers in history. As well as been the chairman of the European private banking subsidiary Safra Republic Holdings S.A; he was also the founder of Republic New York Corporation, founder of Republic National Bank of New York, founder of Trade Development Bank, co-founder of Banco Safra, and co-founder of Hermitage Capital Management.
Throughout his life, Mr Safra was an extraordinary philanthropist. He supported thousands of students through university, underwrote medical research, endowed professorships; and financed humanitarian, religious, educational, and cultural causes all over the world. He created the 'Edmond J. Safra Philanthropic Foundation' to ensure that individuals and organizations continue to receive assistance and encouragement in the future.
Mr Safra was awarded with many honours including: The 'Commandeur de l'Ordre des Arts et des Lettres' by the French government; the 'Commandeur de l'Ordre de Mérite' by the Grand Duke of Luxembourg; the 'Commandeur de l'Ordre de Rio Branco' by the government of Brazil; and the 'Chevalier de la Légion d'Honneur' by the French government.
Ultimately, David worked for one of his organisations on a very sporadic freelance basis; as an advisor on the music, media, entertainment, and materials intellectual property interests (copyrights, trademarks, design rights, and patents) for some of his clients companies based in Switzerland, Luxembourg, Russia, Monaco, and offshore.
On David's early professional life page, he mentions that he "played some of the most extravagant private parties and corporate events both here in the UK and abroad" and some of these were for Mr Safra and his organisations.
David's work with Mr Safra's organisation ended in 1999 when Mr Safra sold his holdings in both Republic New York Corporation and Safra Republic Holdings to HSBC Bank. Sadly, shortly after the sale to HSBC, Mr Safra tragically died in a fire in his Avenue d'Ostende apartment in Monaco.