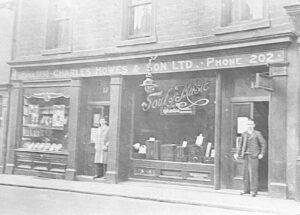 Charles Howes & Son was established in 1990 by the former mayor of Morecambe (Charles Bradley Howes) after he began a musical instrument retailer on Queen Street in Morecambe. David Wood's involvement with the Charles Howes & Son piano business began in 1990 and he is now the sole-owner of the Charles Howes & Son trade mark (UK00003647257).
Today, Charles Howes & Son offer upright pianos and a range of piano stools that are made in China. The new series of Charles Howes & Son pianos offer customers a piano with an excellent design, specification and build quality. With a beautiful touch, cabinet and sound that has being voiced for a rich European tone; these pianos offer incredible value for money and are made to a standard normally reserved for considerably higher priced pianos.
As many piano customers will have seen, the new models now benefit from: premium hammers; selected spruce keys; German Röslau strings; durable spruce back posts; solid wood core soundboards; sand-cast iron frames; and a high quality UV polyester cabinet which has a lockable keyboard (which make them attractive with schools, churches and public places).
This improvement in specification has been achieved by implementing the process theory of 'swift,even flow' by reducing both factory throughput time and reducing variations in the total supply chain. Therefore, we now only offer the Derwent and Consiton models in the best selling polished black finish and not the mix of thirteen finishes as before.
Charles Howes & Son Pianos are built in the state of the art factory, with ISO 9001 Certification [Quality Management Systems] and ISO 14001 Certification [Environmental Management Systems] in Asia. The result of these developments is that a 2020 model Charles Howes & Son Piano has a higher specification, and is better built than ever before.
Charles Howes & Son Piano Stools are built in a state of the art facility located in northeastern Shenzhen, near the Sanzhoutian reservoir and less than four miles from the beautiful Wind Valley Golf Club in Guangdong province.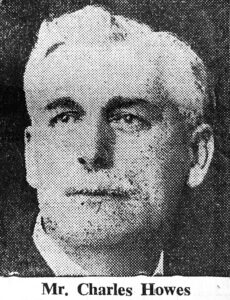 History of Charles Howes
1873: Charles Bradley Howes was born in Nottingham in 1873 to Joseph Charles Howes (born in Chatham in 1847) and Mary Ann Howes nee Jones (born in Leicester in 1852).
1880: At the age of 7, Charles and his family moved to Leeds.
1887: At the age 14, Charles became an apprentice piano tuner for a small piano dealer called Bowker & Co.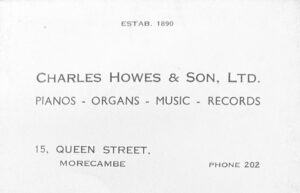 1890: By the age of 17, Charles had moved to Morecambe and founded a a piano and musical instrument retail business on Queen Street in Morecambe with his father Joseph.
1895: At the age of 22, Charles married Emily Davison (born in Saltaire in 1987). He became friends of the local bank manager and conductor of Morecambe Madrigal Society, Robert Howson whom the previous year (1894) had founded the Morecambe Music Festival. With the help of Mr. Howson's bank, Charles started work on the design of an upright piano, which later became the 'Lakes View' model. Charles regularly took a piano that had been part exchanged in his shop and completely dismantled it so he could experiment and analyse what could be improved. This process was often an expensive exercise as Charles would take a thoroughly good piano and destroy it. Charles commented later in life that much of his knowledge of pianos was learnt in these early days experimenting.
1899: Charles Howes had four of his 'Lakes View' pianos made by Collard & Collard of 50 New Bond Street, London in 1899. Over the next sixty years he had many of his pianos made by Collard & Collard and was financially and creatively involved with them.
1900: Charles and Emily's son Frederick was born on the 28th of May 1900 in Morecambe.
1902: Through Charles Howes' close friendship with Morecambe music festival founder Robert Howson and Chairman Canon Charles Gorton they all met the Great British composer Edward Elgar in the June of 1902 to commission him to compose a new test piece for the following years music festival. In the November, Elgar wrote the piece Weary Wind of the West, dedicated to Morecambe, and set to four verses of the Manx poet Thomas Brown. It received its debut performance in the May of 1903 at the festival.
1904: Charles Howes had a telephone installed in his shop at the end of September 1904. He was one of the first businesses in his town to have a telephone and realised that the future prosperity of his business depended on the ability to communicate with customers and businesses both locally and nationally. He began to take monthly deliveries from 'Collard & Collard' of his 'Lakes View' pianos.
1905: Charles and Emily's daughter Rose was born on the 3rd of August 1905 in Morecambe. Charles Howes re-named his 'Lakes View' pianos, 'Lake' after the death of his close friend Robert Howson but the reason for the change is unknown. Edward Elgar composed the part song 'Evening Scene' for the memorial service of Robert Howson following his death. Charles Howes was the conductor for the memorial service and took over the conducting duties of Robert Howson for the Morecambe music festival, which was generally considered the finest and certainly the largest music festival in the country at that time.
1908: Charles Howes started work on his deluxe pianos called 'Charles & Son'. He needed to find local firms (in the north of England) to work with due to his obsessiveness about the quality of these new pianos. Even though his son Frederick was only eight years old, Charles had decided that Frederick would enter the family business when he had finished his education.
1909: Charles Howes became involved with a piano maker in Bolton called Mr Wood of "Woods Piano Works" for his deluxe pianos. He had all the backs, soundboards, iron frames and strings made at Woods. Actions were made at 'Henry Brooks' in London (who merged with Herrburger action makers of France in 1926). The cases were made by Lancaster based 'Waring & Gillow'. For many years there has been confusion between the companies. Until the 11th edition even the piano industries bible "Pierce Piano Atlas" had the entry as Woods Piano, Cannon Street, Bolton, Lancaster, England (the towns of Bolton and Lancaster are approximately 50 miles apart). A new Charles & Son deluxe upright piano in 1909 cost 150 guineas (approximately £157.00).
1910: Charles Howes conducted a four thousand strong choir and orchestra for the 'John Farmer Music Festival' held at the Crystal Palace in London on Saturday the 26th of March 1910. The festival was so prestigious that it was reported in the "Times" newspaper on the following Monday.
1911: Charles Howes sold a total of six deluxe 'Charles & Son' pianos in 1911, which were nearly, double the price of his standard Collard & Collard Lake pianos.
1912: Charles Howes supplied in 1912 a deluxe upright piano to 'Lancaster Male Voice Choir' now one of the oldest choirs in England. The choir was founded in 1899 by Richard Thomas Grosse and held rehearsals at the 'Waring & Gillow' factory at North road, Lancaster.
1914: Charles Howes' son Frederick joined the family business and the shop name was changed to 'Charles Howes & Son'.
1920: Charles Howes joined his local town council following in his father Joseph's political footsteps.
1921: Charles Howes began to sell new less expensive imported pianos from New York based Sohmer & Co. in 1921. Hugo Sohmer's son Harry J. Sohmer and Charles became life long friends often exchanging piano manufacturing ideas and methods. While on business in London, Charles stayed with his Uncle Henry who lived at 181 Putney bridge road, Wandsworth. Charles dined nightly at The Royal Court Hotel in Sloane Square, Chelsea. One evening while dining Charles met Henry Waterson, the manager of Ted Snyder (Irving Berlin's writing partner). He told Charles that he wanted a piano making for Irving Berlin that could transpose automatically. Charles discussed this with the senior management at Collard & Collard but they didn't think that there would be a big enough market for such an instrument. Charles, fascinated by the concept, mentioned it to Harry J. Sohmer and he set about and succeeded building one. Only three of these pianos were ever built for Irving Berlin, and they regularly travelled between New York and London. Sohmer & Co.'s reputation as a piano innovator was cemented. A new Charles & Son deluxe upright piano cost 170 guineas (approximately £178.00) and a Sohmer & Co piano cost the equivalent to approximately £120.00. By the out break of war in 1939 the equivalent Charles Howes & Son deluxe piano had risen to 225 guineas (approximately £235.00) but because of the great stock market crash in the late 1920's the Sohmer & Co pianos were still selling for approximately £120.00. (I.e. no price change in nearly twenty years).
1922: Charles Howes organised a broadcast of his towns music festival in 1922 with the BBC in London. It was a real coup for him and was one of the first events of its kind to be ever broadcast outside of London. It was believed that over one million listeners heard the programme via the highly acclaimed 221 station in Manchester. Charles had a "Marconiphone" installed in his shop especially for the broadcast. During the festival he left the festival and went to his shop to listen to the broadcast. He reported back saying, "the broadcast had come through remarkably well".
1924: Charles Howes had to change the name of his Charles & Son pianos in 1924 after receiving a telegram from the Kimball piano companies American lawyers. They stated that they were also making pianos with the same name. Although Charles didn't own the registered trademark for Great Britain neither did Kimball, but he decided to give in and changed the name to the same as the shop, 'Charles Howes & Son'.
1925: Charles Howes was asked in 1925 by Waring & Gillow of Lancaster to design a Grand Piano with strengthened legs for the one thousand four hundred passenger cruise ship MV Caledonia 5. Waring & Gillow were fitting out the ship for the builders A. Stephen & Sons of Glasgow for the Anchor Line. The piano was built by the Welmar Piano Company, 47 Conduit Street, London. Her maiden voyage was from Glasgow, Moville, New York on the 3rd of October 1925.
1929: After the upset of the Kimball lawyers experience and the fact that Charles had only sold about one thousand Deluxe pianos in nearly twenty years. Charles decided to drop the range and his name in 1929 to concentrate on the sale of the British Collard & Collard pianos and the imported American Sohmer & Co pianos.
1932: Charles Howes visited Harry J. Sohmer's new Long Island factory in 1932 and spent a month there. When he returned to England he immediately visited Woods Piano works and Waring & Gillows to discuss the changes he wanted for his newly designed Charles Howes & Son deluxe 'Lake district' range.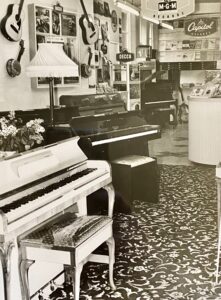 1933: Charles launched the new range of Charles Howes & Son, Deluxe series pianos in 1933. Each model was named after areas of the Lake District just as the upright range is today. Charles Howes' new Deluxe pianos were critically acclaimed and supplied to many of the local entertainment attractions including the new Midland Hotel in Morecambe which was designed by the highly acclaimed architect Oliver Hill. The Midland, built in the art deco style, also contained a mural by one of the Worlds greatest engravers, Eric Gill. The Tate Gallery in London now holds more than a hundred of Eric Gill's works. A new Windermere model upright piano was supplied as the pit piano to the Cecil Hodgkinson's Winter Garden Orchestra in 1933. The winter gardens had recently been bought by a group of business men including Charles' friend Alfred Edmondson. The first production the new Windermere was used for was an amateur production by the Warblers of the Desert Song staring a young Thora Hird playing the part of Susan. In 1933 the new Charles Howes & Son deluxe series Windermere piano cost 200 guineas (£210.00).
1935: Charles Howes supplied a Langdale deluxe piano to the Royalty Theatre Morecambe in 1935 which was being fully refurbished by Waring & Gillow.
1936: Charles Howes in 1936 invited the young conductor Harold Malcolm Watts-Sargent (Sir Malcolm Sargent) to conduct a two hundred strong ensemble including the Halle Orchestra and festival Choir for the final nights grand concert of the Music festival. It attracted an audience of two thousand five hundred people. Charles had met the young conductor Malcolm Sargent after a Huddersfield Choral Society concert in the early part of 1934 and persuaded him to conduct the concert just a few days before Malcolm Sargent left for his first conducting tour of Australia.
1937: Charles Howes was elected Mayor of his Morecambe town council on the 9th of November 1937.
1938: During his inaugural year, Charles Howes wanted his towns Music Festival to be one of the key dates in his official calendar. Charles had become a friend of many great conductors and Sir Henry Wood, Sir Hamilton Harty and Dr. C. Armstrong Giggs all graced the festival in 1938.
Charles also opened his towns new Fire Station.
1939: Charles Howes year as Mayor had really paid dividends for Morecambe's entertainment programme by 1939. For example, on a Tuesday evening in February there was live entertainment including six concerts and five dances and all the usual entertainment on at the Winter Gardens, the Tower, the Royalty and the two piers. There were very few Charles Howes pianos manufactured during the Second World War. When the production all but stopped the cost of a new Charles Howes & Son deluxe series Windermere piano had risen to 225 guineas (approximately £235.00). Charles refocused his business on renovation work.
1944: Charles Howes was elected Alderman of his town on the 29th of June 1944.
1945: Charles Howes and Emily celebrated their Golden Wedding Anniversary
1946: Emily Howes died. Post war production of new Charles Howes pianos re-commenced in 1946 but the raw material and manufacturing costs were increasing.
A new Charles Howes & Son deluxe series Windermere piano cost 265 guineas (approximately £279.00) in 1946.
1947: After a fire at Charles Howes' Queen Street office in 1947, Charles, devastated at the loss of many of his records and design drawings decided to retire from full time involvement of the business. He handed over full time reigns to his son Frederick.

1948: Charles Howes in 1948 was commissioned to design a showpiece Grand Piano in a Burr Walnut cabinet for the cruise ship MV Princess Patricia built by Fairfield Company Ltd of Glasgow, Scotland. The Patricia was built for the Canadian Pacific Ltd line of Canada and fitted out by his long time friends at Waring & Gillow, Lancaster. The Princess Patricia was built to serve on the Canadian West Coast carrying passengers between Vancouver and Victoria. The Pianos legs were specially deigned and made to withstand tremendous amounts of stress due to the bad weather conditions associated with the region. Piano castors were replaced with bolts in rubber mounts. The Piano was constructed by Welmar Pianos of 47 Conduit Street, London. It was in continuance use until 1980 when the Princess Patricia was retired.
1949: Charles Howes began designing a smaller range of pianos in 1949 realising some people were looking for small cottage pianos.
1952: Charles Howes resigned from his town council on the 31st of January 1952.
1953: Charles Howes' largest and most prestigious order came in 1953 quite simply through his years of tremendous networking. In 1944 Henry Waterson (see 1921) had introduced Charles to Woolf Phillips a young Conductor and Arranger who had just started working with the 'Geraldo' band in London. By 1953 Woolf Phillips was Musical Director of the London Palladium Orchestra who's owners Moss Empires Ltd had just bought the Winter Gardens Theatre in Morecambe. Woolf Phillips told Charles that Reg Bromhead, a director of Moss Empires, Odeon and Gaumont was looking to purchase sixteen rehearsal pianos for his various venues. Even though Charles was eighty years old he immediately booked a train to London, met with Woolf Phillips and Reg Bromhead and got the order. The pianos supplied to Moss Empires included prestigious venues including the London Palladium, Prince of Wales Theatre, the Hippodromes at London and Birmingham, the Theatre Royal at Nottingham and Birmingham as well as Empire theatres (Liverpool, Leeds, Glasgow and Edinburgh) and several venues for Gaumont.
A new Charles Howes & Son deluxe series Windermere piano in 1953 cost 390 guineas (approximately £410.00).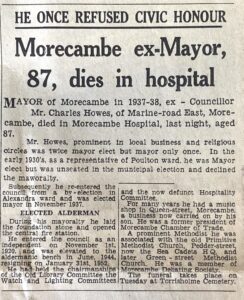 1960: Charles Howes died on Friday the 8th of January 1960 at the Queen Victoria Hospital aged eighty-seven years old.
An obituary appeared in the Lancashire Evening Post on Saturday the 9th of January 1960 and in The Visitor Newspaper on Wednesday the 13th of January 1960.
The Charles Howes & Son business was continued by Charles' son Frederick for a short time, before he sold the retail shop to Tom Harker and Jack Howarth who established Harker & Howarth's in 1946.
Collard & Collard also closed in 1960 and Waring & Gillow closed in 1961. A new Charles Howes & Son deluxe series Windermere piano in 1960 cost 445 guineas (approximately £465.00).