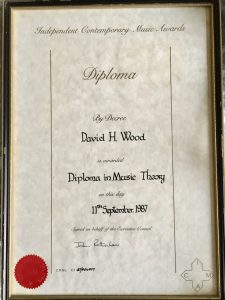 David Wood holds the post-nominal letters DipMusTh after gaining a 'Diploma in Music Theory' from the ICMA in 1987 after sitting an external examination.
Established in 1985, the ICMA today offer a range of refreshingly modern grade and diploma and through an up to date music exam syllabus.
As well as the traditional instrument syllabi, the ICMA also cater for other popular instruments such as rock guitar, bass guitar, kit drumming, and pop vocals amongst others.