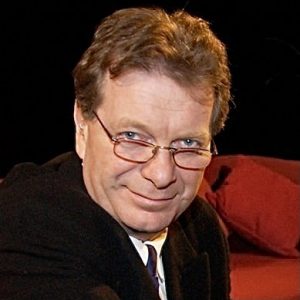 David Wood initially met the late Anthony H Wilson [1950-2007] in 1990 through the Manchester music scene.
After studying at Manchester's School of Sound Recording, David had a little recording business (St Aubyns Sound Recordings) that was doing work for the Oyston family's Trans World Communications which got him more in to the Manchester music and media scene. Anthony's name was continually coming up from either media contacts, or through David's mentor Sir Denis Forman who was Anthony's boss at Granada TV.
David says "my first meeting with Anthony was bizarre! After opening Promenade Music in 1989, a friend who worked in a Manchester music shop invited me to a launch party of a band [Northside] who had signed to Anthony's Factory records label in early 1990. I missed the gig, ended up in an indoor laser game place, met Anthony, and we hit it off immediately".
David wrote in his 2013 Memories of Martin Hannett blog that "when I finally met Tony, he was one of the most supportive people I've come across who wanted all Manchester businesses to do well. He would go out of his way to network for my success and he became a good friend and mentor before his death".
As a child, David had seen Anthony on TV because he was an anchorman for a regional evening news programme (Granada Reports), and he appeared on many of the music and culture programmes David watched as a teenager. A was a music manager and co-owner of the legendary Factory Records label which released music by the likes of the Happy Mondays, Joy Division, and New Order. He founded and ran both Manchester's famous Hacienda nightclub and the Dry Bar music venue; and his 'In the City' music festival and industry conference was a key date in the music industry calendar.
David became closer to Anthony in the last 10 years of his life. In the first few years after David co-founded Faith & Hope records, Anthony was supportive and "a great shoulder to cry on". They had some wonderful times socially both in the North of England and on their annual trips to Cannes. Anthony supported David professionaly and pushed him to do things he would have never done normally (like been a panellist at his In the City conference).
Anthony – who was known as 'Tony Wilson' in the music world, and Anthony H Wilson in the TV world – was a true music and media impresario, and the central character in what is now known as the 'Madchester' years.