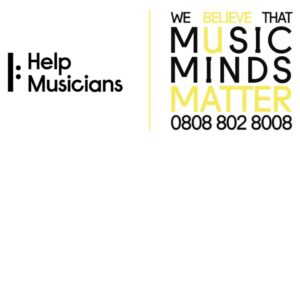 Help Musicians – formally known as the Musicians Benevolent Fund and incorporating the Scottish Musicians Benevolent Fund – is a registered charity [No. 228089] and the leading UK charity for musicians of all genres, from starting out through to retirement. The charity is all about the interests of musicans and for over 100 years, has been working to make a meaningful difference to the lives of musicians across the UK. It offers a broad range of help to support music creators in times of crisis and opportunity – ensuring musicians across the UK can achieve their creative potential and sustain a career in music at the crucial stages, that could make or break their career.
Help Musicians want a world where musicians thrive. A career in music may bring moments of unbridled joy but also challenging lows, and that is why for over a century, Help Musicians has offered unwavering support to artists through the tough moments when they arrive. They are a charity with compassion at their core, a value shared by the musician who inspired the charity in the first place.
Following the death of Gervase Elwes (through a freak accident in 1921, when he was aged 54), Gervase's friends – Sir Edward Elgar, Lady Maud Warrender and Victor Beigel – set up a fund to carry on the vital work Gervase had championed during his life. This fund is what is known today as 'Help Musicians' and despite a few name changes, the ethos of the charity has remained the same since it was founded — to help musicians thrive and flourish.
Since 1921 'Help Musicians' have enjoyed and benefitted from the patronage of the Royal Family — King George V and King George VI were both their Royal Patrons. From 1953 to 2022, Her Late Majesty Queen Elizabeth II was their Patron, who was committed to seeing music and the arts flourish in the United Kingdom, as was reflected by her many patronages in this area. Their current President is Dame Evelyn Glennie, only the third President in the charity's history and she follows in the footsteps of their past Presidents Sir Edward Elgar and Sir Peter Maxwell Davies.
'Help Musicians' has always adapted its support through various challenging moments. The enormous impact of Covid on the music industry saw Help Musicians respond accordingly, supporting 20,000 musicians with hardship relief exceeding £19.5m — but this is far from the single defining moment when musicians have turned to the charity. The charity relies solely on the generosity of its donors to continue the life-changing work they do. Owing to strong investments going back many years, the charity is in a strong position where one-hundred-percent of donations go to supporting musicians. Help Musicians wants musicians to achieve their creative potential; and offer financial help to develop their skills, grow their portfolio and build a career.
Music Minds Matter
In more recent times, 'Help Musicians' have launched a dedicated 'Music Minds Matter' service, offering mental health support to the entire industry which is a registered charity [No. 1199795] in its own right.
Whatever musicans are going through, they can contact Music Minds Matter on 0808 802 8008, which is a dedicated mental health support line which is available 24 hours a day, seven days a week, and is a dedicated service for the whole UK music community.
If someone you know, who works in music, is struggling to cope, get them to talk to Music Minds Matter. It doesn't have to be a crisis, or about music. They're there to listen, support and help at any time. They can talk to their trained support staff (at any time, day or night) and it's free, confidential, and available across the UK. They offer emotional support, advice and information, signposting to other specialist services, debt and legal advice as well as access to financial support from Help Musicians. They can access free counselling and CBT, either in person, over the phone or online from qualified counsellors.
If a musician needs to talk to someone, get them to call Music Minds Matter on 0808 802 8008, any time of the day or night; or visit Music Minds Matter