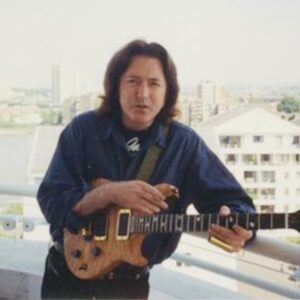 The Story of Rory Gallagher's 1992 Patrick Eggle JS Berlin Legend electric guitar has so many mistakes online that I thought I'd correct them here on one page.
No one knows the story of the beginings of this guitar better than me and my colleagues, because I took the order and my music shop Promenade Music in Morecambe supplied the guitar.
The guitar has been described online as a 'JS Berlin Legend Rory Gallagher Model' which is incorrect. The guitar is actually a Patrick Eggle JS Berlin Legend with some custom cosmetic changes done on Rory's request. The changes were mainly cosmetic, but Rory wanted a gloss finish and his initials [RG] in the wood of the fretboard at the 12th fret.

At the time in 1992, Patrick Eggle was a young British luthier, Promenade Music was a young [three-year-old] music shop, and this sale was a big thing for both businesses.
The Patrick Eggle Berlin JS Legend was a limited edition guitar that was designed by guitar legend Jim Tomkins – who was know professionally as 'Big Jim Sullivan' – and Patrick Eggle. The 'JS Legend' resembled Patrick's Berlin Pro model, but had a figured maple body.
Although Rory had some input into the guitar Patrick Eggle made for him, it was ordered and paid for by Rory's friend and fan Gordon Morris.
Sadly, Rory didn't own the guitar long as he passed in 1995.
I saw the guitar again shortly before the guitar was presented for auction and Peter Barmby – our electronics engineer – had to do some work to the guitars electrics due to corrosion.
19 years after Rory's death, his family returned the guitar to assist in fundraising for Rory's friend and fan Gordon Morris' medical bills [It was Gordon who bought the guitar for Rory].
The guitar was sold to County Antrim man Peter Drayne [a director of MITA Records] by my friend Kevin Kendal of the Crooklands based 1818 Auctioneers in Cumbria in 2014 for around £25,000 (about £29,500 with buyer's premium) on Friday the 11th of April 2014.
Rory was known for playing his 1961 Fender Stratocaster, and I don't think he ever used his Patrick Eggle live, but what a piece of Rock 'n' Roll history Peter bought. Rory loved his Patrick Eggle, and the guitar features in pictures of Rory with the guitar which accompanied his CD Big Guns – The Very Best of Rory Gallagher and the DVD Ghost Blues.
If you ever attend the Rory Gallagher festival in Ballyshannon, watch out for Peter and ask him how the guitar is.