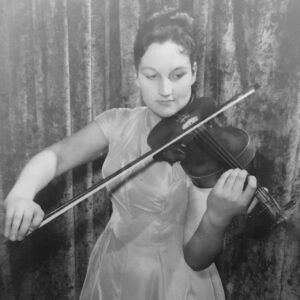 David Wood's mother-in-law*, Miriam Morley is a British professional violinist and violin teacher at the Junior department of the Royal College of Music [RCM].
Miriam began studying violin at the Junior department of the Royal College of Music in 1953 [aged 12] and studied there as a junior until 1959 [aged 18]. Miriam was an outstanding protege student who was chosen to play a solo in the RCM's 100th Junior Exhibitioners' Concert which was held at the college on Saturday the 27th of March, 1954.
Whilst studying at Junior RCM, as well as playing in their college ensembles and orchestras, Miriam's talent was noticed outside of college and she gained a place to play violin in the National Youth Orchestra of Great Britain [NYO] which had been founded in 1948 by Ruth Railton.
In 1959 [aged 18], Miriam was awarded a foundation scholarship to study violin at the senior department of the Royal College of Music. In senior college, Miriam studied with the celebrated Spanish violinist Antonio Brosa, who became internationally known as the leader of the Brosa String Quartet; leader of the Pro Arte Quartet; and as a soloist who performed many premiere performances of works by a range of composers including: Haydn Wood, Arthur Benjamin, and Benjamin Britten (to name but a few).
Whist studying at senior RCM, Miriam gained an LRAM performance diploma, an ARCM teaching diploma, was leader of a senior RCM orchestra; and enjoyed a full and varied programme of solo, chamber music, and orchestral playing.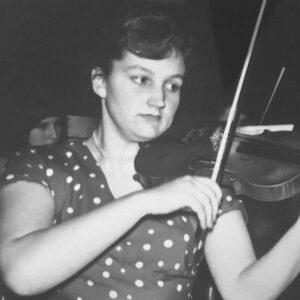 After leaving the RCM in the early 1960's, Miriam was awarded a British Council Scholarship to do a post-graduate year at the Bruxelles Conservatoire, under the world-famous Belgian violinist Arthur Grumiaux.
As a point of interest for Grumiaux fans: As well as being one of the few truly great violin virtuosi of the 20th century, Grumiaux was also a marvelous pianist. Listen to his Philips recording A 02078 L – that is mono album of circa 1957 – entitled 'Grumiaux Musiziert Mit Grumiaux'. The album features the Mozart violin sonata No.33 in E-flat major for piano and violin KV481; and the Brahms violin sonata No.2 in A major for piano and violin Op.100. Over the photo of the album cover – which has a collage of Grumiaux playing both the piano and the violin – there is text overlaid saying "Arthur Grumiaux, Klavier und Violine". Grumiaux played both parts on the recording, which is an amazing feat – both musically and technically – when you consider that multitracking (the method of sound recording that allows for the separate recording of sound sources to be recorded at different times) was only developed in 1955.
Whilst studying at Bruxelles Conservatoire, Miriam continued her intense practice regime and changed the position she held the violin with her left-hand. On returning to England at the end of her post-grad year in circa 1963; Miriam began playing solo recitals, concertos, and freelancing with orchestras.
Miriam began teaching in London at the Royal College of Music Junior department – where she had been a student herself a decade earlier – and later taught at St. Paul's Choir School [the independent school associated with St Paul's Cathedral].
Miriam became the leader of the London Opera Group Orchestra (under director Kathleen Riddick OBE); played with the London based Philomusica (a chamber orchestra that was directed by violinist and conductor Carl Pini); the English Sinfonia (a chamber orchestra that had been established in 1961); and the Monteverdi Orchestra (which was established by John Eliot Gardiner in 1968).
By the 1970's, Miriam had married the British banker John Moore (a viola player himself) and they had two children. In circa 1976, the family moved to Sheffield and as well as playing principal second in the Yorkshire Sinfonia (directed by the violinist and violin professor Manoug Parikian); Miriam was freelancing with the Northern Sinfonia (directed by Christopher Seaman); and the Manchester Camerata (directed by with Frank Cliff and Szymon Goldberg).
Circa 1978, saw a major promotion for Miriam's husband John, which included a further relocation for the family across the atlantic to a home in Wyckoff, New Jersey [around thirty miles outside of New York City]. In the US, Miriam taught privately and played with the Bronx Opera Group (which had been founded in 1967 by artistic director and music director, Michael Spierman).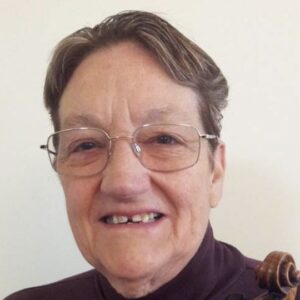 On returning to London in circa 1981, Miriam re-established herself on the freelance scene and began teaching in the UK again. She re-joined the Royal College of Music Junior department in the mid 1980's; and her two children behan attending the department, with her daughter [Rachel Lucy] learning the cello, and her son [Ben] learning the French Horn. As well as teaching at Junior Royal College of Music, Miriam also later became an associate teacher with the London Suzuki Group.
Miriam has had a long and wonderful career both as a professional violinist and violin teacher. As well as playing with the likes of the London Opera Group Orchestra; Philomusica; the English Sinfonia; the Monteverdi Orchestra; Brighton Philharmonic; and for several ballet seasons at the London Coliseum; she was a member of the Concorde Piano Trio – alongside cellist Christine Livingstone – and they played chamber music in Morley College, Leighton House, Fulham Palace, and Bourne Hall.
Miriam has been an inspirational teacher to many young violinists and her teaching means everything to her. She continues to devote her time to teaching and has had the pleasure of seeing many of her pupils become successful musicians in their own right, as members of such orchestras as: The Royal Philharmonic Orchestra, the Bournemouth Symphony, the BBC Scottish Symphony, and the Royal Liverpool Philharmonic.
* Footnote: Miriam, is as close to a 'mother-in-law' as David will get. David and Miriam's daughter (Rachel Lucy Moore) have been in a relationship for several years, but not married.