David Wood and Rachel Lucy Moore [David's partner] have musical families. David's son Harrison Wood and daugher Jess Wood are both multi-award-winning professional musicians; their daughter-in-law Linzi Matthews [married name, Wood] is an actress and singer who has appeared professionally on stage and screen; David's late mother Barbara Briggs [married name, Wood] was a singer and pianist; and Rachel Lucy's mother Miriam Morley is a violinist who has taught at London's Royal College of Music junior department since the 1960's .
Their other musical family includes: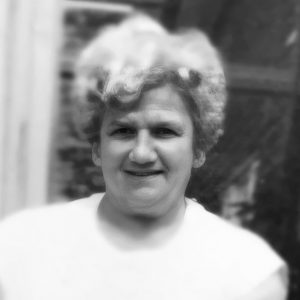 David's Nan: Daisy Briggs
Born in Wakefield, David's late grandmother Daisy Briggs [1908 – 1988] was a horn player and singer. One of David's ealiest memories is of her singing in a rehearsal in Leeds. Daisy understood exactly what was required to be a good musician and indoctrinated David into her belief that musical progression is simply down to 'practice maths' i.e. "Practice for 5 hours a day for 3 years, 3 hours a day for 5 years, 1 hour a day for 15 years, or 1/2 an hour a day for 30 years, it's your choice, because they all add up to the same thing". Daisy had a massive influence musically on her family. As well as her daughter [Barbara Briggs], Daisy inspired her three grandson's [Allan, Martin and David] to love music. When David began ensemble arranging, Daisy spent a lot of time with him and taught him the required skills. Born in a time where sexism and gender inequality in music was rife in orchestras and the wider musical world, Daisy was very vocal about the whole subject.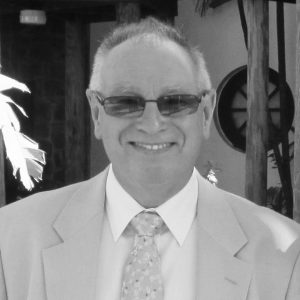 David's Cousin: Allan Briggs
Born in Wakefield, Allan Briggs is David's oldest cousin on their nan's side [Daisy Briggs]. As a youngster, Allan played cornet with the Wakefield Schools Band before gaining a place as a teenager with the National Youth Brass Band of GB [NYBBGB]. Before leaving the NYBBGB when he was 18 [1970], Allan had joined The Yorkshire Imperial Metals Band (also known as the Yorkshire Imps) in 1969 playing cornet for the first few years, before moving on to Eb Tenor Horn with them in the early 1970's. Over the few years after Allan joined, the Yorkshire Imps became the "Top Band In The Land" and one of the greatest brass bands in the World. They won the Brass Band British Open in 1970, 1971 and 1980; the Yorkshire Regional Championship in 1970, 1975, 1976, 1977, 1980, 1981; were crowned the BBC Band of the Year in 1981; won Granada Band of the Year several times; had a triple success at the Edinburgh Festival Invitation Contest; and won the Brass Band National Championship of Great Britain in 1978 playing 'Checkmate' by Sir Arthur Bliss. With the Yorkshire Imps, Allan played on record releases by EMI, Pye, Decca – and a BBC Records release with the NYBBGB – and played under the baton of some of the greatest brass conducters including: Harry Mortimer, Trevor Walmsley, John Pryce-Jones, James Scott and Major Peter Parkes. Today, Allan is the Musical Director of the Harrogate based Tewit Junior Band; and still plays with the Yorkshire Imps [now known as the Yorkshire Imperial Band] and by now must be one of their longest ever serving members.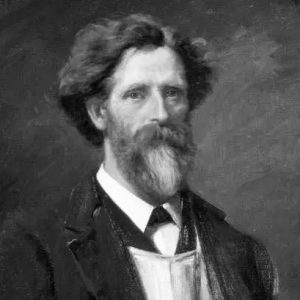 David's Distant Relative: James Briggs
Born in Wakefield in 1855, James Briggs [1855 – 1935] became one of the finest makers of stringed instruments in the UK. After serving his apprenticeship with the Manchester double bass builder William Tarr, James began making 'James W Briggs' instruments in his own workshop in Wakefield in 1876. He exhibited wood [backs and ribs] at the 1880 Paris Exhibition; and in 1890 was awarded gold medals at both the Leeds Exhibition and Vienna Exhibition; and had the largest exhibit of instruments at the Glasgow Exhibition of that year. It was in 1890 that James met the Scottish violin dealer David Laurie, and James re-located his home and workshop to Glasgow in 1893 shortly before David Laurie's retirement. James established his workshop at 122 Sauchiehall Street and shortly after began a stringed instrument shop there. By the end of the 1800's, James had made around 84 violins, 11 violas, 11 cellos, and 9 double basses; and around this time, his youngest son Henry – also known as Harry – followed his father into the business. Following James' retirement in 1931 [aged 76], he sadly died four years later and Henry – who was left to run the workshop and shop in 1931 – ran the business until 1949.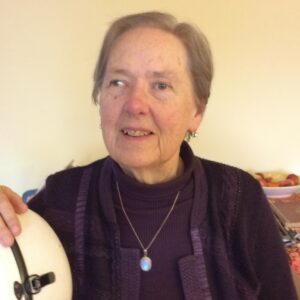 Rachel Lucy's 2nd Mum: Christine Livingstone
Christine Livingstone is like a second mother to Rachel Lucy. Christine was Rachel Lucy's first cello teacher when she was a young girl living in the US. Born and raised in America, Christine began learning the piano [aged 7] but fell in love with the cello when she started having lessons with Nancy Streetman [aged 12]. Christine attended the State University of New York; and the Manhattan School of Music where she had lessons with Otto Klenz, Fritz Wallenberg and Ardyth Alton; and did masterclasses with Greenhouse and Soyer. Christine was on the board of directors of the Bronx Opera Company in New York – and led their cello section for many years – and as well as playing and teaching the cello professionally in the US, she worked in the Montclair [New Jersey] workshop of the American luthier, Carleen Maley Hutchins, who's work has been the subject of an exhibition at the Metropolitan Museum of Art in New York. Christine did her Suzuki teacher training with Louise Behrend at the School for Strings in New York City and moved from New York to London in 1982 to teach with the London Suzuki Group. As well as teaching for the London Suzuki Group, she was the groups Music Director for around 15 years, organizing large scale concerts and directing their international summer music course at Bryanston School. Christine was a member of the Concorde Trio and in the early 1990's, began teaching cello and chamber music at the Junior department of the Royal College of Music… where she still teaches today.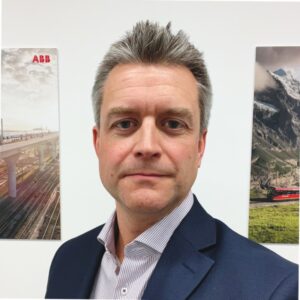 Rachel Lucy's Brother: Ben Moore
Ben Moore, won a place to study French horn at the Royal College of Music junior department as a teenager and went on to read music and politics at Keele university. Ben decided that he didn't want to pursue a career as a professional musician and became a journalist. Ben went on to become an experienced and skilled journalist who's worked across print, broadcast and social media for some of the world's biggest media operations. For over two decades, Ben worked for the BBC – doing top level broadcast journalism and editorial production – and ended up as a BBC Assistant Editor where he would plan, shoot, edit, write, produce and output broadcast and digital content on a daily basis. Amongst Ben's accolades, he was a part of the programme team that won the RTS Nations & Regions Programme of the Year [three times – 2015, 2017, 2020]; and he won the Kent Press & Broadcast Awards sports journalism category three years on the run between 2015-17. In 2022, Ben left the BBC and moved to Switzerland to become the Global Media Relations and Content Manager for the multinational corporation ABB.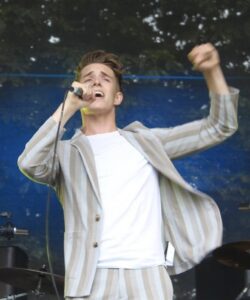 Rachel Lucy's Nephew: Seb Turner-Moore
Seb Turner-Moore is a singer, songwriter and music producer. When he was 11, Seb's friends dad – the TV composer Nick Harvey – produced a little track with Seb laying down some beats, and Seb was hooked on music. Whilst at school, Seb performed solos in school concerts; was the lead singer in the school Soul Band; and played the lead role of Captain Von Trapp in a school production of The Sound of Music. Outside of school, Seb had began creating and producing songs since an early age and had built-up enough music equipment to have a small home studio set-up. After school, Seb studied on the BA (Hons) Music and Sound Design at Ravensbourne University in London – where David Bowie is amongst its alumni – and attending Ravensbourne has helped Seb understand and explore different music production techniques. Whislt a first-year at Ravensbourne, Seb made huge strides into the music industry when his single 'Another Love' which was featured as a BBC 'Track of the Day' on two local BBC radio stations; and another of his tracks was featured on BBC Five Live. Seb is now writing, producing and out there performing his own music; and his future career is looking very bright. Find out more: Seb Turner-Moore.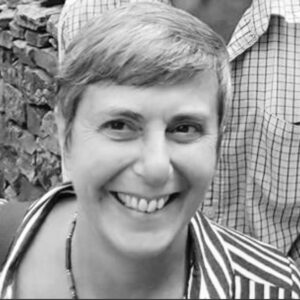 Rachel Lucy's Stepmother: Amanda Moore
Amanda Moore's had a love of singing from childhood. Although she didn't choose music as a career; at school and university [Warwick studying law] Amanda sang in the choirs. Singing took a back seat throughout her thirty-five plus year commercial law career (which carried a massive workload) but now retired, Amanda once again enjoys singing. She has sung – Alto – with The Whitehall Choir (a leading London amateur choir); The Wimbledon Choral Society (one of the finest amateur choirs in South); The Plymouth Philharmonic Choir (one of the largest choirs in the South West); and she occasionally sings with the BBC Symphony Chorus (one of the finest amateur choruses in the UK). With Wimbledon Choral, Amanda sang in a Remembrance service at the Royal Albert Hall; for the 2019 World Premiere of Cecilia McDowall's 'Da Vinci Requiem' at London's Royal Festival Hall; and on the recording and 2023 CD release of 'Da Vinci Requiem' on Signum Classics (SIGCD749). With BBC Symphony Chorus, Amanda sang at the Royal Albert Hall for the 2019 BBC Proms for 'Prom 43' (Sakari Oramo conducting Beethoven's Symphony No. 9); and the 2022 BBC Proms for 'Prom 33' for the 'BBC Commission: World Premiere' of Matthew Kaner's 'Pearl' and for Holst's The Planets 'Neptune Celestial Vocal'. In 2023, Amanda  (God willing) will be singing again with the BBC Symphony Chorus for 'Prom 12' (Beethoven's Symphony No. 9); and for 'Prom 27' (William Walton's 'Belshazzar's Feast'). Amanda is the sister of Richard Blackford (one of the foremost concert and media composers in Europe) and the mother of Alexander Pullinger (the professional freelance countertenor, singing teacher, and LGBTQ+ advocate).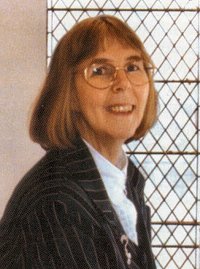 Rachel Lucy's Aunt [Margaret Lucy Wilkins]
Margaret Lucy Wilkins studied at the junior department of London's Trinity College of Music and then at Nottingham University where she earned a BMus with honours and AMusD. Margaret Lucy's compositions have been performed throughout the world and amongst her many accolades, she was First Prize in the competition for young composers of the New Cantata Orchestra of London in 1970; recipient of the Scottish Arts Council Award for Composers in 1970; recipient of the Cappiani Prize for Women Composers in 1971; recipient of the Sandford Award for Heritage Education in 1999; and recipient of the Miriam Gideon International Prize in 2000. Margaret Lucy taught music theory and piano in St. Andrews from 1964 to 1976; lectured at Huddersfield University from 1976 to 2003; and taught at Queen's University in Belfast as Maude Clarke Visiting Professor in 1995. She co-founded the Scottish Early Music Consort in 1969; founded the Polyphonia ensemble in 1989; was a member of the Executive Committee of the British Academy of Composers and Songwriters; the Council of the Society for the Promotion of New Music; the Board of Directors of the International Alliance of Women in Music, and the Honor Committee of the Fondazione Donne in Musica.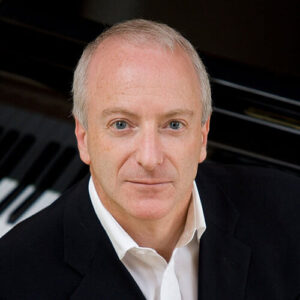 Rachel Lucy's Step-uncle [Richard Blackford]
Richard Blackford is one of the foremost concert and media composers in Europe. Richard studied composition and conducting at the Royal College of Music [RCM] in London; and like David's daughter [Jess], was the recipient of the Tagore Gold Medal whilst a student there. Between 1990 and 1995, Richard was the Director of Music at the Royal Ballet School and has gone on to compose four operas, two musicals, lots of concert music and the scores to over two hundred films. Amongst his many accolades, he was nominated for an Emmy Award for Outstanding Achievement In Music in 2001; awarded Die Goldene Deutschland in Cuviliestheater, Munich, for services to music in Germany in 2015; awarded an honorary doctorate [Doctor Of Philosophy] by the University of Bristol in 2019; and won Ivor Novello Award in the Choral Category 2020. Richard is published by Novello and Nimbus Publishing, with current recordings available on Nimbus and Signum Records. Find out more: Richard Blackford.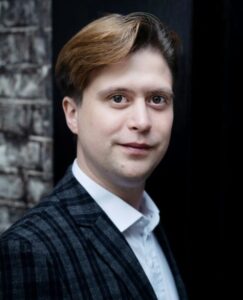 Rachel Lucy's Step-brother [Alexander Pullinger]
Alexander Pullinger MMus LRSM is a professional freelance countertenor, singing teacher, and LGBTQ+ advocate who helps the world of classical singing embrace and celebrate its transgender singers. As a child, Alexander was a music scholar at Charterhouse School before becoming a choral scholar at Oxford University's New College whilst reading BA in Music. Alexander went on to become a TCL choral scholar at Trinity Laban Conservatoire of Music and Dance whilst studying for a MMus; and has also gained a LRSM diploma in performance from the ABRSM. Alexander has performed in Europe, the USA and the Middle East; and can be heard on recordings of Mozart's Requiem, Monteverdi's Vespers, Haydn's Creation and the Bach motets. Alexander has performed many works by a range of composers (Vivaldi, Rossini, Handel, Purcell, Britten, etc) and has sung with many ensembles (Binchois Consort; Armonico Consort; Chamber Choir Ad Parnassum; London Festival of Contemporary Church Music; Chamber Choir Ireland; London Choral Sinfonia; Erebus Ensemble, etc). As an educator, Alexander has been a resident singing teacher for a National Children's Choir of Great Britain Course [2019]; a vocal consultant; a workshop leader; schools outreach worker; and is the author of 'Facilitating the Empowerment of Transgender Voices Through Singing' [read here]. Find out more: Alexander Pullinger. Photo Credit: Harry Flynn