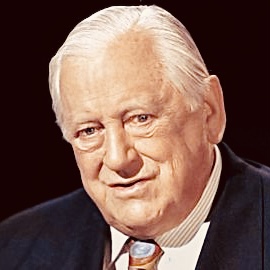 David Wood initially met the late Sir John Denis Forman OBE [1917-2013] in 1986 after establishing St Aubyns Sound Recordings. They met by chance (when David was placed next to Sir Dennis at a dinner) and David found him charming, charismatic, highly intelligent and incredibly knowledgeable about classical music and opera.
David shared with Sir Denis that he was planning to sit a music theory diploma in the near future, and we spent the evening talking about music. Sir Denis had the most amazing ability of being able to talk to anyone – from someone like me, to high level dignitaries – and make them feel calm, comfortable, special, and as if he had all the time in the World for them. He had a distinguished career. After World War II, he joined the British Film Institute where he later became a Director and went on to be their Chair of Governors.
For most of his career though, Sir Denis worked at Granada TV. He joined them around the time they first aired in the mid 50's and was there through the success of the likes of Coronation Street, Jewel in the Crown, and Brideshead Revisited to name but a few. By the time David met Sir Denis, David says "he was an absolute legend at Granada. Although nearly 70, he was still working there as either their chairman or deputy chairman, I can't remember which".
Sir Denis was a music lover – with an absolute passion and incredible knowledgeable of classical music and opera – who had written several books that had been published. He had a long association with some wonderful music organisations; and served at the Royal Opera House Covent Garden as their deputy chairman, and at the Royal Northern College of Music (aka RNCM) music conservatoire in Manchester on their board. Following his death in 2013, the RNCM announced that they were renaming a lecture theatre the 'Forman Lecture Theatre' after him.
Sir Denis introduced David to many people in music and entertainment over the years and it was amazing how their acquaintances morphed. Sir Denis' friend Baron Moser, who served as Chairman of the Royal Opera House (when Sir Denis was deputy chairman) is the father of David's friend Pete Moser, who was the CEO of a music and eductaion charity that David was a trustee of. Sir Denis' employee Tony Wilson (aka in the TV industry as Anthony H. Wilson) was another of David's mentors. Sir Denis' friend Sir John Manduell, the founding principal of the Royal Northern College of Music, also became a friend and business acquaintance of David's.
Sir Denis was a wonderful gentleman. Although he was one of the driving forces behind the success of commercial television in Britain, he also had deep rooted passion for his other interests that included: classical music, opera, film, military tactics, fishing… and his native Scotland!