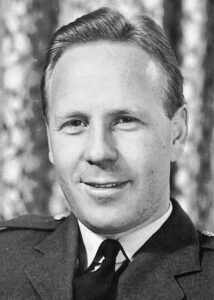 Today is the funeral of my dear friend, David Cuttill, who although was born in Edgware [London] in July 1931, actually grew up in Liverpool. He was the only child of strict parents – a cost clerk, and a domestic help – and the household endured the hardship of the war years, which resulted in an insecurity that never left him.
On leaving school, David joined the RAF and rose through the ranks, leaving after fifteen years as an Officer with the rank of Squadron Leader. The Officer's Mess, his batman, the discipline and the ceremony, all became a compass for his subsequent life. He always addressed me as 'prommers' (not David).
During his time in the RAF, he acquired a tase for 'nice things' and bought his first 20/25 Rolls-Royce motor car for a "good price"… but sold it quickly because it was a "basket case". Unfortunately he never learned the lesson that cheap is not always best. He also bought a traditional river boat [Moomba] and travelled widely as ADC [Aide-de-Camp] to Air Vice Marshal Sir Douglas 'Zulu' Morris [his commanding officer].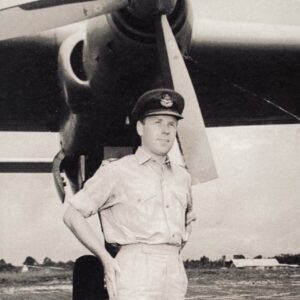 David used his RAF demob money to buy a mews house in South Kensington where he had been a sitting tenant. He was pleased that the address was 'Number One' Clareville Street, and proud of his telephone number 'Frobisher 3431'. He never moved, and answered the phone "Frobisher 3431" for as long as I knew him.
After leaving the RAF, David completed a Certified Accountants course at the Harrow Technical College – where he met David Burrows who owned a music shop called City Music – and he started working at City Music as a book keeper. David Burrows provided the finance for David to start his own business [Viscount Organs] that began importing electronic organs from Marcello Gallanti, who in 1969 had established Intercontinental Electronics SpA which sold electronic organs with the Viscount brand. Over the years, David got on brilliantly with Milvia, Marcello, Mauro and Loriana over at the Viscount factory in Italy.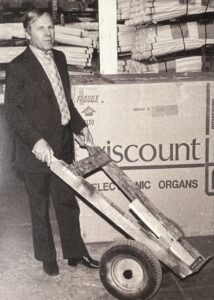 The Viscount Organs Limited – which David incorporated in January 1976 – was very successful and operated from a small warehouse in Watford. The operation was run by David and over the years, he had some wonderful employees including: Mike Beattie, Guy Rose, Charles Braund and of course, his trusted engineer and warehouse man Mike Heathcote, who between them did everything in the latter days and Mike was with David until the end.
The Burrows family [David and his wife Gillian] became life long friends of David, as did Geoffrey Van Hay who was the founder of Fleet Street's famous El Vino Wine Bar where David also became the book keeper. David and Geoffrey also became life long friends. The Earls Court pubs were an early foundation of David's social life where he found life long friends Jonathon Gunnet and Donald Cameron.
He delighted in mixing and associating with the glitter of the Burrows' Rolls-Royce motor car, the Van Hay's country parties, GQ magazine, Harrods, the Reform Club, and a yacht on the River Thames. Closer to home, David formed enduring friendships with his neighbours in Clareville Street, Mary Richardson and Timothy, and Ann Faulkner who always looked out for him.
Viscount Organs was the routine of his life, and he made the round-trip drive from Kensington to Watford in his lovely Mercedes-Benz motor car daily. Viscount was also another area of his life where he made life long friendships. As well as myself and the Galanti family (Marcello, his son Mauro, and daughter Loriana) he also had a close friendship with Wensleigh Palmer, the owner of Music Unlimited in Exeter.
As well as Viscount, David was also involved in the Adastra label marketing, and Esquel accessories marketing businesses with John Andrews. We would often sit on David's roof terrace in Kensington – drinking flat Leomonade – talking about what he would do with Viscount UK long-term, and how Vicount Italy, Adastra, Esquel, and my businesses – Promenade Music and Faith & Hope Records – were all doing. These were such happy times.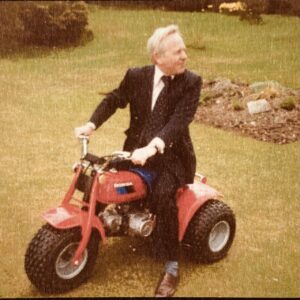 When David sold the Viscount Organs Limited, an event that he dreaded and put off for many years, he found a new routine as a volunteer for the Red Cross Charity Shop at 69-71 Old Church Street in Chelsea. He always proclaimed that he was working in "the most expensive charity shop in the World" because people would take in designer clothes that were often unworn. David loved the idea of getting stock for nothing and selling it for eye-watering amounts. He also loved its household name customers, and would often tell me about his chats with Bob Geldof and alike.
David loved his local community around Kensington. In 2008 he became a trustee of the Earl's Court Community Trust (which supports arts and performing arts activities); and his passion for the stately home Bentley Priory [the Stanmore headquarters of Fighter Command during the Second World War] led him to becoming a trustee of The Bentley Priory Battle of Britain Trust in March 2013 after the estate was purchased by developers in 2011 who hoped to develop the site into luxury housing. David joined the appeal to turn Bentley Priory into a museum – commemorating its role in the Battle of Britain – and The Bentley Prior Museum was formally opened by Prince Charles in September 2013.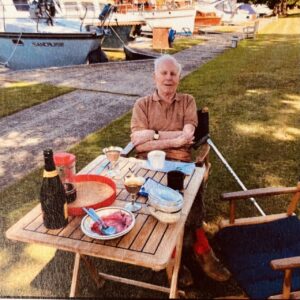 David was a creature of cafe society and delighted in making contacts and being amused. Preferably contacts with a bit of glitter and institutional glamour. David and my family had a wonderful night out at the Royal Albert Hall in the mid-late 2,000's when my daughter Jess was playing at the school proms. David was in his element as we had a box for the event.
David never chose to commit to any relationships, to campaign for causes, or share himself with others. After his health gave out, he spent much of 2021/2 in Care Homes in Battersea and Wandsworth. Although he was comfortable and well looked after, he never settled. Elderly companions and institutional life was a head on collision with his cafe society instinct.
Viscount Organs was a money spinner for the poor boy from Liverpool. His will leaves his estate to charities including the RAF Benevolent Fund; King Edward VII hospital; and funding for an organ scholarship which we spent many hours discussing.
RIP David
Written December 2022