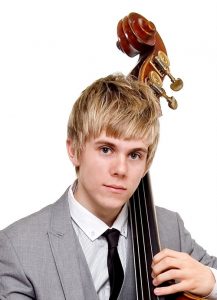 David Wood's son Harrison Wood is a professional bassist, band leader, and businessman. Born in 1991, Harrison started playing bass as a child, and professionally as a teenager.
He studied at Manchester's Royal Northern College of Music from 2006-2011. He stated at Junior RNCM, where he was awarded the 2009 Director's Prize; the 2007 and 2009 Yorke Trust Prize for Double Bass; became the principal double bass with the Halle Youth Orchestra; and bassist with the National Youth Jazz Orchestra. After accepting a scholarship to study at the main RNCM when he was 18, he then studied as an undergrad, played in college ensembles and was chosen to play in the Conservatoires UK All Star Big Band.
In 2011, Harrison won the 15,000-euro Burghausen European Young Artists Jazz Award with the Beats & Pieces Big Band, and performed live on German TV; headlined Ronnie Scott's [5* reviews in the Telegraph and Guardian newspapers]; played international jazz festivals in London, Oslo, Paris, Ireland and Germany; Won Best UK Newcomers at the 2013 Jazz FM Awards; and Ensemble of the Year at the 2014 UK Parliamentary Jazz Awards.
In the past, Harrison has presented videos for the Yamaha silent bass series and has now played with literally thousands of professional musicians; worked with many leading ensembles [Syd Lawrence Orchestra, Glenn Miller Tribute Orchestra, New Squadronaires Orchestra, Burt Kaempfert Gala Concerts, Kings of Swing]; British orchestras [The Halle, Royal Northern Sinfonia, Opera North, etc] and led the bass section at the Royal Albert Hall.
He has played for lots of London west end shows [42nd Street, Annie, Top Hat, Elf, Mrs Henderson Presents, Wicked, Lion King, Mary Poppins] and is a regular studio session player [Abbey Road, Angel, Real World, Livingston studios] playing for many composers and producers – including the film composer Hans Zimmer – can be heard on the original London cast recordings [Mrs Henderson Presents, Elf] and the albums [Cornershop's Hold On It's Easy, Harpist Claire Jones This Love, Beats & Pieces Big Ideas and All In]; and was featured in two full page articles in the Bass Guitar Magazine.
Away from playing bass, he is a fixer, musical director for Creation Worldwide; founder of the entertainment business Hville Music; and founding-member of the function band The Groove Membership. Away from music, he spends time with his wife, and son [my grandson] Freddie.
Away from music, Harrison competes in both Ironman 70.3 mile and the grueling 140.6 mile long-distance triathlon competitions. [The 140.6 'full-distance' is where he swims for 2.4 miles, cycles for 112 miles, and then runs a marathon of 26.22 miles]. Harrison won his age group [age 30-34] and finished 4th overall – out of over 2,400 athletes – in the pinnacle 140.6 mile full-distance event at Ironman Ireland in Cork in August 2022 with a time of 9 hours 34 minutes and 54 seconds; and competed in the 70.3 distance in Utah [USA] at the Ironman World Championships in October 2022. As a youngster, Harrison was an excellent young golfer and footballer; and now helps coach his son Freddie's Greenloons Formby FC youth football team.