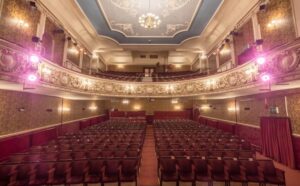 David Wood is an 'Footlights Member', which is the amateur group that owns and operates the Lancaster Grand Theatre.
The Lancaster Grand Theatre means a lot to David as he began playing trombone in the theatre pit in 1980 when he was fourteen years old. He played for the Lancaster Red Rose Amateur Operatic and Dramatic Society productions – at the Grand Theatre – of Half A Sixpence [1980], Bless The Bride [1981] Me And My Girl [1984] and Fiddler On The Roof [1985]; and David was appointed the societies Musical Director in 1985 when he was nineteen years old and conducted their productions of No No Nanette [1986], The Music Man [1987], Oklahoma [1988] and Guys & Dolls [1989]. Later, David was the co-musical director – with his friend Eddie Waring – for several panto seasons for Footlights.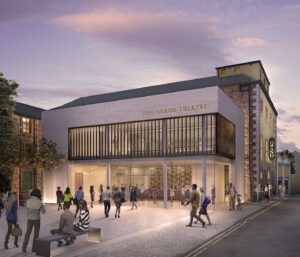 Lancaster Footlights & Grand Theatre (Registered Charity Number 1198714) started out as a thriving amateur drama group in the 1920's and has always taken a professional approach to its work. It purchased the Grand Theatre in 1951 from ABC Cinemas and over the years has evolved from solely an amateur theatre group to one which now hosts a wide range of both community and professional shows, still producing its own performances. They employ a full time manager and two assistants to program over 70 community and 80 professional performances each year, many of which involve nationally known names.
The Lancaster Grand Theatre has been 'The Home of Entertainment' – and a major part of the social and cultural life of Lancaster – since the theatre opened in 1782.
Today, as a result of a continual restoration drive, the theatre is in the best condition it has been since the rebuild in 1908 and now operates as one of the key north west venues for amateur drama, music and dance and professional touring companies and David is desperate for it to continue. The picture of the outside of the theatre is for the Lancaster Grand Theatre New Foyer Appeal.