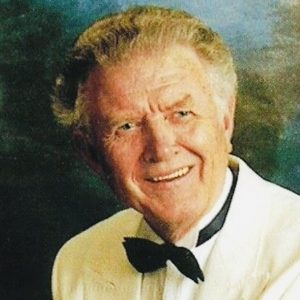 David Wood initially met the late Major Peter Parkes [1928-2011] in 1983 whilst studying at Huddersfield. The Major taught David arranging, conducting and he played under the Major's direction in a college ensemble.
After leaving college in 1984, The Major was wonderfully supportive of David. The Major liked David's arrangment style and got him some freelance work doing arrangements and copyist work for the specialist brass publisher Hallamshire Music who were based in Sheffield at the time.
The year after, The Major gave him some work himself; and had an amazing year with Black Dyke winning 'all five' world major brass contests; i.e. the 'BBC Band of the Year', the 'Champions of Yorkshire', the 'European Championships', the 'British Open', and the 'National Championships'.
The Major had a long and successful career as an musician, world-class adjudicator, and award-winning conductor of over 100 commerical albums.
The Major was the president of the British Federation of Brass Bands, chairman of the Brass Band Heritage Trust; vice-president of the National Association of Brass Band Conductors, co-founder of the Association of Brass Band Adjudicators, and executive member of the National Youth Brass Band of Great Britain.
In the military World: The Major had a distinguished career firstly as the bandmaster of the Duke of Cornwall's Light Infantry. He then went on to be the Director of Music of the Royal Engineers, and then the Director of Music of Grenadier Guards. He was involved with most military events from the Trooping the Colour and Remembrance Sunday, to the Royal garden parties and International tours.
In the brass World: The Major won 6 British Open national titles (5 with Black Dyke, 1 with Fairey's) including the legendary three year run with Black Dyke in 1975/6/7. He won 8 European titles (7 with Black Dyke, 1 with Fairey's) an unprecedented 30 regional titles with various bands.
At the time of writing, he is the only conductor to have ever won 'the treble' of the National Championships, British Open, and European Championships 'twice'.
Although not many brass players realise, The Major wasn't actually a brass player himself. He played violin as a child, and moved on to clarinet as a teenager.
He was a wonderful tutor at college, and David appreciated the help he gave him in those first few years of his professional life. As David moved away from the brass world, life got busier and they spoke less.
Considered by many as "one of most successful brass conductors ever" The Major was quite simply a brilliant musician, arranger, and conductor.