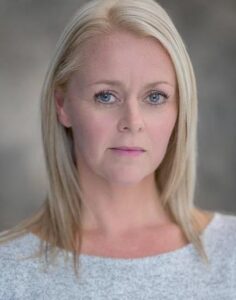 David Wood's daughter-in-law is the British actress and singer Linzi Matthews [married name Linzi Wood] who has appeared on both television and stage.
After completing a three-year course in Musical Theatre at 'Guildford School of Acting' in the late 90's, Linzi was cast in a variety of roles in everything from a multi-award winning television drama, to a prime time BBC sitcom; from a role in Coronation Street, to a part in a new cutting-edge Ben Elton play; and from long runs in a much loved British musical, to playing many parts in pantomimes.
Linzi's television credits include playing the part of 'Prison Officer Birtles' in the television soap opera Coronation Street where she starred alongside Coronation Street characters Tracy Barlow and Gail [Tilsley, Platt, Hillman, McIntyre, Rodwell]; and playing 'Joshua's Mum' in the British sitcom Eyes Down alongside Paul O'Grady and Sheridan Smith.
She played 'Cheryl' in the multi-award winning television drama Warriors which won a BAFTA for the Best Drama Serial and a Royal Television Society Best Single Drama award; and 'Judith' in the Audio Drama Doctor Who: The Kingmaker where she starred alongside Peter Davison and Nicola Bryant
Linzi's theatre credits are vast and include playing the part of 'Linda' for many years in the Willy Russell musical Blood Brothers for Bill Kenwright Ltd. She also played 'Janis Joplin' in the one-woman show A Woman Left Lonely directed by Peter Wright; was in Dr Suess The Musical directed by Ben Goodwin at the Old Vic Theatre; 'Priscilla Presley' in Are You Lonesome Tonight? directed by Robin Lefevre; 'Beauty' in Beauty And The Beast directed by Paul Hutton; and was in the ensemble for Anyone Can Whistle directed by Michelle Hardy at the Savoy Theatre.
Linzi also has a love of new works and her theatre credits in this area include: 'Scout' in the Ben Elton's play Popcorn directed by Bruce James; 'Gaynor' in the UK tour of The Dinner Lady Man written by Dan Hagley and directed by Jenny Stephens; 'Fay McMahon' in the taboo-breaking play Loot directed by Gareth Tudor Price; 'Judith' in the psychological drama The Cutting directed by Peter Wright; 'Sue' is the comedy stage play Slappers and Slapheads directed by Susie McKenna; 'Jane' in the farce Out of Order written by English playwright Ray Cooney and directed by Patric Kearns.
Linzi has been cast for many pantomime seasons and played the roles of: Queen Hermione in Sleeping Beauty, Princess Jasmine in Jack and The Beanstalk, Fairy Feathers in Mother Goose, the Princess in Aladdin, Fairy Bowbells in Dick Wittington, Princess Jasmine in Jack and The Beanstalk, and Carabosse in Sleeping Beauty.
After having David's grandson Freddie in 2003, Linzi has concentrated on a working-life that works around her son Freddie. She has an incredibly strong work ethic and has built-up a very successful portfolio career that includes: acting, singing, voice-overs, singing waiter gigs, 1-2-1 personal training, clubbercise instructor; and is a Star Consultant for Scentsy [the American company that sells scented products]. Check out Linzi Wood's Scentsy Page for some brilliant gift ideas (including wax warmers and other home and body products) and her Fredshed Fitness Page on facebook for her personal training sessions.