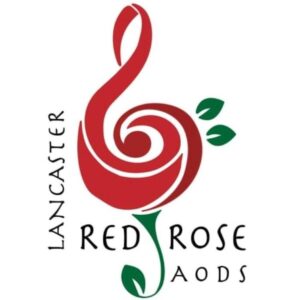 Lancaster Red Rose Amateur Operatic and Dramatic Society – also known as Lancaster Red Rose AODS – are one of the best known operatic and dramatic associations in the North West of England. They have put musicals on in Lancaster since 1936 and are a very friendly and welcoming am dram society.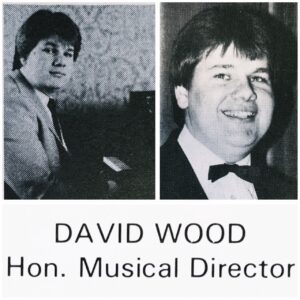 I'm David Wood and I have published some pages (in decades) about the annual shows that Lancaster Red Rose AODS staged; so take a look at shows from the … 1930's … 1940's … 1950's … 1960's … 1970's … 1980's … 1990's … 2000's … 2010's … 2020's … please bear with me on these pages, this is a little personal project and very much work in progress.
The rest of this page is about my time with Lancaster Red Rose AODS in the 1980's, I played trombone for four shows; and musical director for four shows. I started playing trombone in the pit of the Lancaster Grand Theatre for them when I was fourteen and played for: Half A Sixpence (1980); Bless The Bride (1981); Me And My Girl (1984) and Fiddler On The Roof (1985). When I was nineteen [1985], I was appointed musical director and conducted for their productions of: No No Nanette (1986); The Music Man (1987); Oklahoma! (1988); and Guys And Dolls (1989).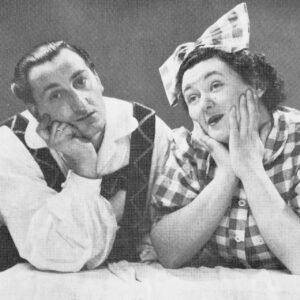 I was appointed musical director by Kathleen B. Kenyon MBE who had been the producer for Lancaster Red Rose AODS for many years. I was already known to Kath and her husband Les Kenyon [pictured left] as I'd played trombone in the shows previously mentioned and had worked with Les as a child. Les was an incredibly busy compere, host, and comedian who was a well loved funny-man, very successful, and played parts for Kath's Red Rose shows. I'm not exactly sure when Les passed away; but after directing Red Rose AODS for many years, Kathleen passed away on the 19th of April 2017 at The Sands Nursing Home in Morecambe, aged 89 years.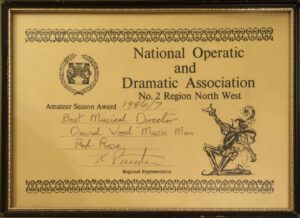 I was honoured to be awarded a National Operatic and Dramatic Association NODA Musical Director award for the theatre season 1986/7 for my musical direction of 'The Music Man' which was staged from Monday the 16th of March 1987 to Saturday the 21st of March 1987 at The Grand Theatre Lancaster. Founded in 1899, NODA has a membership of around 2,500 theatre groups throughout the UK who are divided into 11 regions. The award I received was for 'No. 2 Region North West'.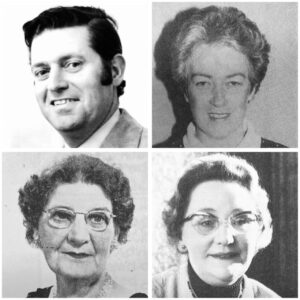 This NODA award must be shared with the late Ron Bull [pictured top left] who was my trusty chorus master and Doris Bullock my piano accompanist for the show. Ron was my Chorus Master for, No No Nanette (1986); The Music Man (1987); and Oklahoma (1988). Ron was a fine singer and had been the lead in many am dram productions over the years. He was an excellent chorus master and incredibly thorough when it came to preparing the lead vocals of the principles and the ensemble singing. Ron handed over the reins to Pamela Evans, now Pamela Newman [pictured top right] who was my chorus mistress for 'Guys And Dolls' (1989).
During my tenure as musical director, I had two fabulous pianists who played for rehearsals and show week. Doris Bullock [pictured botom left] was a fine pianist and accompanist; and played for me for, No No Nanette (1986); and The Music Man (1987). In 1988, Doris told me that she wanted to retire and I begged her to stay for one more year. She shared the accompanist job for Oklahoma (1988) with Renee Shore [pictured bottom right] and Renee took over from Doris and played for Guys & Dolls (1989).
When I think back, the little music team of myself, Ron Bull, Pamela Evans (now Newman), Doris Bullock and Renee Shore made a good little team back between 1986 and 1989 and there is no doubt that I could not have done the musical director role without their support and experience.
Quick links to Lancaster Red Rose AODS shows of the … 1930's … 1940's … 1950's … 1960's … 1970's … 1980's … 1990's … 2000's … 2010's … 2020's.