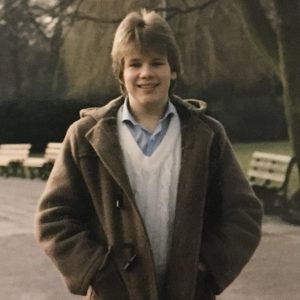 David Wood's early life in the music industry was diverse. He worked as a musician doing live, theatre, and studio work as an instrumentalist, musical director and bandleader. He worked in the recording business creating tracks, jingles and ringtones. He worked in publishing as an arranger, proof-reading and as a copyist; and worked as a private music teacher where his pupils had a 100% pass rate in graded and diploma examinations.
After leaving Huddersfield Technical College's School of Music in the summer of 1984, I tried to find a 'normal job' but no one would employ me. So, after trying to get jobs at MFI furniture; the communications department of Lancashire police; Wood's Music (no relation) and a few other places, I became self-employed and began my life in the music industry.
Over the following years, I was lucky to work with some very talented musicians, singers, and entertainers; and like all musicians, I've done my fair share of mundane gigs, but I've done some fantastic ones too. Below is the more exciting and memorable part of my playing and recording life….. hope you enjoy reading. [If you're a glutton for punishment, you can also read about my musical childhood]
Work as a Musician
(live, theatre, and studio musician; bandleader; musical director; teacher; and arranger, proof-reader, and copyist)
Trombone Days
As a young trombone player, I'd got to know some of the old pro players who were playing in the North of England [Derek Southcott, Alan Pepperell, David Loukes, Stuart Atkin, Harry Burgess, Les Storey, etc] and when I started playing 'professionally', I'd occasionally get dep work from them. By the time I started my short-lived professional trombone career, I'd already done a lot of gigs in hotels and working men's clubs, playing jazz and light entertainment tunes; played in the pit at the Lancaster Grand Theatre for several am-dram shows; played with the Lancashire Schools Symphonic Wind Band and deputised for the National Youth Jazz Orchestra, and The National Youth Orchestra of Great Britain; and played with / deputised for / or sat in with several brass bands including Morecambe Brass Band, The Yorkshire Imps, Wakefield Band (formerly, Sirdar Wakefield Band) and Grimethorpe.
In the spring of 1984, I played trombone for a week for the Lancaster Red Rose AODS production of 'Me And My Girl' at the Lancaster Grand Theatre; and in the summer of '84, got the chance to play in a small brass ensemble that had been put together by Phillip McCann – one of the best known names in the bass band world – to do a small tour of northern France. The ensemble also included a young euphonium player called Nic Childs who went on to do brilliantly in the brass band world.
The trombonist and brass band conductor David Loukes – who I'd met whilst playing at Wakefield Band – was very kind to me and put me forward for a few dep orchestral jobs; and Alan Pepperell, who I'd known as child, gave me dep jobs with Harry Bence's 'The New Squadronaires' (which was a tribute to old Squadronaires RAF band of World War II) and on the musical 'Barnum' which was on at Manchester's Opera House and included a band with Al Wood on sax, John Elliott on tuba, and Brian Day on bass, and MD'd by Stuart Atkins.
In the winter of '85, I did another week for Red Rose amateur's production of 'Fiddler On The Roof'; and whilst on a Harry Bence gig that winter, I met the Chesterfield based musician, arranger and bandleader Greg Francis who then occasionally booked me as a dep on one of his 1986/7 tribute shows to Bert Kaempfert.
After a long conversation with Pep [Alan Pepperell] in early '85 about 'the good old days for players' when there was tons of work, I was beginning to realise that to keep up the level of practice that was required to be a professional player – and the commitment needed to hold down a playing job – was going to be impossible for me to do, if I had the desire to do 'other things'. These 'other things' I wanted to do included: playing keys; musical directing; running a function band; recording; teaching; etc. So, by mid '87, I stopped taking trombone gigs and had stopped playing totally by the end of '87. In early '88, I sold my dear old Conn 73H bass trombone.
Fast forward to early 1995, and a strange turn of events saw me buy another trombone. I began practising again after I was asked to play on a National Lottery Live Show (which was presented by Anthea Turner and with special guest Danny La Rue) which was broadcast live on BBC1 television in June 1995 from the City Varieties Music Hall in Leeds. After the gig, I sold the trombone and that was my final ever trombone gig.
With hindsight, 'Pep' was probably the only musician who ever told me about how playing trombone professionally was on the decline… unless you were a world-class player, which I wasn't! Pep encouraged me to get stuck into other things and changed my life when he introduced me to Alan Fawkes [See Jingles and Recording below].
Keys, Bandleader and Musical Director Days
In my early professional days, I got weekday evening work playing organ to summer season holidaymakers at local Morecambe Hotels (The Broadway, The Clifton, and The Lothersdale); and weekend work accompanying acts and playing for 50/50 dancing (Foxtrots, Tangos, Old Time Dancing, etc) at local working men's clubs and social clubs (Galgate Social Club and Lansil sports and social club etc.). Over the next few years, I went on to play in a myriad of working men's clubs – including the Blackpool's Leyton Institute Club, Blackpool Central Working Men's Club, Manchester's Embassy Club – and played lots of gigs in hotels in Morecambe, Blackpool, Manchester, The Lake District, and London.
In 1984, I was spotted by Halton-on-Lune based bandleader Alan Williams who had a three-piece organ combo. I joined Alan's band – known simply as the 'Alan Williams Band' – and played organ alongside Alan on drums, and Bob Ingram on guitar and vocals. In the Autumn of '84, Alan got a corporate gig at 'The Pembroke Hotel' – which was a massive hotel in Blackpool with 278 bedrooms and 11 conference rooms – and from that gig, Alan was asked to play a private house party for Tiny Rowland who was the hotels owner. Alan (who was a truck driver by day and drummer by night) didn't want to take a gig as far away as Bourne End [Buckinghamshire] but offered it to me. As a desperate for work newly-wed, I said yes, and it was the beginning of what would become my own function band.
After doing the gig for Tiny at Hedsor Wharf in Bourne End, I was offered a residency at his Pembroke Hotel in Blackpool and started in the summer of 1985. I did that residency until long after the 1996 takeover of The Pembroke by the Stakis hotel chain (when it became the 'Stakis Blackpool Hotel'). Whilst playing at Tiny's home; I was asked if my quartet would like to play for a private dinner at Edmond Safra's home in London. Again, this is another relationship that lasted even longer than The Pembroke one. Over the next fifteen years, I played at Edmond's homes and did lots of his corporate events.
As a child, I'd met the Blackpool theatre organist Raymond Wallbank who owned a great organ shop in Lytham St Annes. When I stayed at my auntie Hilda's house (who lived on George Street in central Blackpool), I often cycled down to Raymond's shop to play the organs. In the Blackpool summer seasons between the mid 1960's and 1990's, Raymond – who was affectionately known as 'The Prince of North Pier' – held the residency in the north pier's sunlounge and was contracted to play seven days a week. In 1986, I became one of Raymond's deps – he had a few – as he didn't want to work seven days a week anymore after getting into sailing his boat on the canal. This was great experience for me, because the job was to play for 50/50 dance medleys and play singalong medleys for hours on end. It also fitted in perfectly because I would play for Raymond in the day and go straight to my residency at night at The Pembroke.
After playing trombone for the Lancaster Red Rose AODS productions of Half A Sixpence in 1980, Bless The Bride in 1981; Me And My Girl in 1984; and Fiddler On The Roof in 1985; I was appointed their Musical Director in the winter of 1985 – a daring appointment on their behalf because I was only nineteen years old – and went on to conduct their shows: No No Nanette in 1986; The Music Man in 1987 (for which I was awarded a National Operatic and Dramatic Association Musical Director award); Oklahoma in 1988; and Guys And Dolls in 1989.
In early 1987 – after opening my Yamaha Music School – I went on a week-long Yamaha teacher training course in Milton Keynes. At the end of the week, there was a very pleasant final day 'mini-concert' where all the teachers got to play something to one another. A few days after I returned from the course, I was contacted by George Clayton [Yamaha] who asked if I had the time to help out playing at the Sandcastles in Blackpool; as their resident organist had been doing seven days a week. I travelled over to meet with George at the Sandcastles, who already knew that I was dep'ing for Raymond on the north pier. At the meeting, there was George and the Sandcastles ultimate big boss Derek Wardman, who luckily I already knew. The Yamaha 'organ' that the Sandcastles had bought was the £30,000 plus Yamaha FX1 'electone' and Derek made it clear that they never wanted to hear the 'organ' sound, "especially not the Theatre Organ sound". So, over the next year or so, I occasionally got to play this huge top of the range electone and the job was made far easier as the FX1 had a disc drive so I could save all my settings. As well as the summer season programme, the Sandcastles also put on 'Winter concerts' (which I never played for) but sadly, in the end, the FX1 wasn't commercially viable for the Sandcastles and I believe they sold it off sometime in the mid 1990's.
In 1988 – whilst playing for a corporate event with my function band at The Imperial Hotel in Blackpool – I met a young agent called Lorraine Colclough who had become one of the biggest agents in Blackpool after taking over her late father's business [Ernest Colclough Enterprises]. Over the ten years or so, I played some of the most prestigious corporate events that were being hosted in Blackpool, either at The Winter Gardens complex (Empress Ballroom, Spanish Hall, etc); The Pembroke / Stakis Hotel; The Imperial Hotel; or The De Vere Herons Reach Hotel .
From the late 1980's, I played and represented the largest electronic entertainment home organ manufacturers at some of the largest UK organ festivals. Over the years, I was fortunate to represent the Yamaha, Technics and Hammond organ companies at several of these national organ events; and by day, I would demonstrate the latest organs on a trade stand; and by night, I played for social dancing. In their day, these festivals were massive events with up to one thousand of the keenest amateur home organ enthusiasts travelling from all over the UK to go and stay for a week at places like Pontins Middleton Towers and Butlins Holiday Camp Blackpool. I can't remember exactly which companies ran which festivals, but the names Trevor Daniels, Alan Ashton, Cled Griffin, Grant Neal and Bob Chapple all spring to mind. On the classical side of organs, I played and represented Viscount Organs who are one of the world leaders in electronic classical organs at several National Christian Resources Exhibitions which are Europe's leading exhibitions for church-orientated products.
I also did several years as musical director for pantos that were put on by Footlights at the Lancaster Grand Theatre with my dear friend Eddie Waring.
Throughout my playing career, I worked with literally thousands of musicians – and too many to name – but locally they include: Eddie Waring, Jim Nilson, Terry Kennaugh, Laurence Canty, Larry Charles,  Mike Bell, Tim Franks, John Griffiths, and Bob Ingram. I have a lot of lovely memories of playing some beautiful Lake District hotels with some of the aforementioned and was really lucky to play gigs up at The Grange Hotel; Kendal Green; The Merewood; Storrs Hall; Low Wood; The Wild Boar Inn; The Belsfield; Leighton Hall; Rydall Hall and Armarthwaite Hall.
After playing some fabulous private parties and corporate events 'down south' in the mid-late 1980's (through business people who were hosting dinner parties either in their homes, in private dining rooms, or function rooms in London restaurants and hotels), I was incredibly fortunate to play in the beautiful surroundings of London hotels incuding: The Ritz on Piccadilly; The Savoy on the Strand; The Dorchester on Park Lane; The Grosvenor House Hotel on Park Lane; and The Forte's Hyde Park Hotel (now known as the Mandarin Oriental Hyde Park) on Knightsbridge.
Over the years, my band played for hundreds of weddings, events, and parties, etc. These include the likes of The 1993 Conservative Party Conference (when John Major was leader); the 1994 Labour Party Conference (when Tony Blair was leader); the 1995 Conservative Party Conference (when John Major regained the leadership); the 1996 Blackpool Illuminations Switch-on after show party for Blackpool council (after the girl band 'Eternal' switched the lights on); The 1996 Golf Open Championship (when it was held at The Royal Lytham & St Annes Golf Club); the 1997 Southport Flower Show; the 1988 Villa La Leopolda house parties for the Safra family; and many other high profile gigs.
Please remeber though, as I said before, I did my fair share of mundane gigs… and a few horrendous ones! But overall, I will have clocked up somewhere in the region of 4,000 gigs; run my own function band, MD'd for some great shows; and by the grace of God, I ended up playing for some of the most beautiful dinner parties; extravagant parties; top corporate events… and best of all, I worked with some brilliant musicians who I still class as my friends.
Music Teaching Days
I began teaching in late 1984 and some of my first pupils [Neil Claxton, Sharon Mecklenburgh, Paul Bowden, and the late Tony Jackson] have gone on to be lifelong friends. Through my private teaching practice – and the Yamaha Music School I ran in Morecambe from 1987 to 1997 – I taught lots of pupils. Some students wanted to play 'just for fun' and some wanted to take formal music examinations. I'm very proud that I had a one-hundred percent pass rate for my students who did the graded examinations of the London College of Music; and one pupil, Neil Claxton – who became the co-founder of Faith & Hope Records Limited with me – sat and passed a London College of Music ALCM diploma examination.
Publishing Work Days
After leaving college in 1984, one of my tutors (Major Peter Parkes) introduced me to the Sheffield based brass band and wind band publisher Derek Ashmore. Major Parkes put a word in for me about doing some work for his publishing business Hallamshire Music and over a couple of years period I would do occasional arranging, proof-reading and copyist work [this was way before Sibelius score writing software had been developed].
Recording
(tracks, voiceovers, jingles, ringtones and more).
Early Recording Days
After doing lots of recording before I went to study music in Huddersfield in 1983, I resumed doing some recording work in late 1984 after I'd got married. The year after [1985], I enrolled to study sound recording at John Breakell's 'School of Sound Recording' and got a little freelance job – preparing sessions, tape-op'ing, and editing – at a studio in Stockport who recorded bands… and I knew instantly that guitar bands weren't for me!
After a long conversation with trombonist Pep [Alan Pepperell] in early 1985 – about the desire for me to get more into recording – he kindly introduced me to his friend and saxophonist Alan Fawkes. Alan invited me down to his Clocktower Cheshire studios in Sale and I was astounded by his studio and his Alfasound jingle business. I knew that this is where I wanted my recording interests to lie going forward; and throughout the rest of 1985, I helped out a little at Clocktower and did lots of researching and networking about the jingles business… and became huge fan of the jingles created by the American jingle writer Anita Kerr.
Realising I needed to add equipment to my little recording set-up in 1985, me and my friend Jon Tibke went down to buy me some new equipment from Alan Cheetham's 'Audio Services' business which was based at Disley near Stockport. I already knew of Audio Services (because it's where I used to be sent to buy tape for the Stockport studio) and it's whilst at Audio Services that I met their salesman Tim Eastwood who is still a friend today.
St Aubyns Sound Recordings Days
I realised that my little one-man-band home recording set-up could be made into a business, and St Aubyns Sound Recordings opened in January 1986 (well, it didn't really 'open', I just came up with the name, got some business cards, and got a sign made for the building). To begin with, as well as some exciting projects (one very interesting university project about the effects that music has on babies), I also did lots of mundane work like 'Happy Birthday' tracks for restaurants; 'backing tracks' for artistes; work for Rediffusion; and audio scripts for a small charity.
In the winter of 1985, I was appointed the musical director of Red Rose AODS and got to know Vicki Oyston – an owner of Red Rose Radio – through doing rehearsals, as she was one of the ladies in the chorus. By the opening night of my first show in March 1986, I'd already begun to get some work creating jingles for a few local clients who knew Vicki and advertised on her station. One thing I'd realised from helping Alan at Alfasound was that the jingle business was a complexed set-up. There were lot of freelancers, working and ghost-writing for other freelancers, who were working and ghost-writing for larger companies who were credited with the work.
As a twenty-year-old, I was in awe of some of the big jingle writers and companies like Alfasound; Sue Manning; Standard Sound; Airforce; and Air-Edel. I knew my only chance was to get involved with some of them. By 1986 there were already over sixty independent radio stations in the UK – most on air from 6am to midnight – and there weren't enough creatives to produce the client adverts and jingle packages for all the stations. As I had lots of other things going on musically, all I really wanted to do was about fifteen hours a week of jingle work, and no more 'happy birthday' tapes.
Through Denis Forman (who was the boss of Granada TV), I met Mike Smith who was freelancing to jingle company called Sue Manning Music Publishing. Mike – who had been a member of the 'Dave Clark Five' in the 60's – was up to his neck in jingle work and over the next couple of years, I helped him out and did lots of work for him which was all centred pretty much around Vicki's Preston based Red Rose Radio. Mike was brilliant for me because he had lots of experience and had done jingles for some of the biggest independent stations of the time including: Radio City, Capital Radio, and many others. This new work all fitted nicely in for me because I had already managed to get a couple of advertising clients through Alan Fawkes and I'd also started to call in to Red Rose to try and 'get in' with the Red Rose sales team (who could get me some work from their smaller clients).
By 1987, things weren't too easy at Red Rose as the work flooded in. Although I personally got on well with the senior management like Julian Allitt who was one of the top brass, there were lots of unpleasant things appearing to happen at the most senior level and Vicki's husband lost control of Red Rose in July '87, only to retake control in the September.
The Red Rose Group became Trans World Communications and you could see it would become a huge radio group. By '87, probably its biggest star was James Whale whose radio programme was 'networked' across Yorkshire and Lancashire… but I never worked on any of his jingles. By 1988, I was tired of trying to juggle everything. I'd also started my Yamaha Music School in 1987 – and it was going well – and Mike was really wanting me to do way more than the fifteen hours I wanted to do doing jingles. It was a tense time because Mike and Sue Manning were under pressure as they had lots more jingle work coming in. This was mainly because of The new stations that had come to air; the overnight sustaining service 'The Superstation'; the split of the FM/AM signal; and the probability that the Oyston's would take over more stations and therefore get more advertisers.
The Oyston's actually took over Radio Piccadilly a matter of days after Vicki and I had finished the show Guys & Dolls in 1989 for the Lancaster Red Rose AODS… when a very young Neil Claxton, aka Mint Royale, played keyboards in the pit [more about Neil below under Faith & Hope Records]. I had finished in the jingle business by the time I opened my music shop Promenade Music in July 1989. The Oyston's merged Miss World with their radio companies under the Trans World Communications name and I managed to sell my equipment in December 1988 but continued to do some freelance work until around the May of '89. They were great times… but exhausting when trying to do everything else.
In 1988, I began a ten-year relationship doing work for Martin Higginson's Morecambe based business called Megafone which he'd founded the year before. I did the project with my friend Mike Croft who as well as being great at voiceovers, had a great little home studio where we could work. I had known Mike for years and his early work in music found him writing tracks for a young Lisa Stansfield and – in the year prior to joining Take That – Gary Barlow. Mike has gone on to write for artistes in the UK and abroad (and even co-wrote a Mint Royale track). At the time when we were doing the Magafone work, our deal was to record scripts (voice, sound-bed and effects) for the scripts that were to be played over telephone.
After I closed St Aubyns Sound Recordings at the end of December 1998, this project became a part of Promenade Music after it opened in July 1989. These were frantic times for Mike and I working for Megafone because with Martin and Mike Watt running the show, everyone involved that this was going to be a fast-growing company that specialised in the delivery of premium rate competition services – and the sky was the limit. Our output was prolific and around ten years later [1998], Megafone was sold to Scottish Power plc. We continued to do work for Martin after he was retained by Scottish Power to integrate their six newly acquired businesses into an interactive content business called Thus (which floated) and Martin was responsible for its internet and interactive businesses – which included Demon Internet – and its 'Business Development Director' responsible for mergers, acquisitions and business development across their portfolio. Martin left thus in July 2000 and my next adventure with him [Monstermob] was even more exciting!
DMR Days
In early 1997, I set up DMR Recordings and worked with Neil Gowland on a range of projects. I knew from him coming into my music shop – Promenade Music – and he was looking in to doing more recording projects.
Neil and I went on to work on lots of things together over the next two decades or so (both mobile and media recording) and our ensemble recording work includes: The Animals II (with 'The Animals' original members Hilton Valentine and John Steel); BC Sweet (the late 'Brian Connolly's Sweet'); Redding, Coghlan and Bell Band (including: Noel Redding of Jimi Hendrix Experience fame, John Coghlan of Status Quo fame, and Eric Bell of Thin Lizzy fame); Kendal K Shoes Male Voice Choir (who have been in existence since 1929); Eddie Allan (the ex-guitarist in Marty Wilde's Wildcats and ex-editor of the 'Guitarist' magazine); The Hustle (Lancaster blues band); Max Takano (Yamaha's electone artiste who's performed in over 30 countries); Langley Band (one of the oldest and most successful brass bands in the Midlands); Chapel-en-le-Frith Male Voice Choir (one of the leading male voice choirs in Derbyshire); Morecambe Brass Band (our local brass band); Nic Cooper (Roland demonstrator); Peter Holt (Media Composer and award-winning musician); Subaqwa (Rock band who were signed to faith & hope records); Mill Theatre Company (we recorded one of their pre-productions); Chase Terrace High School (wind band, choirs, string ensemble); Dave Newton (One of the UK's leading pianist); Tin Pan Alley (Blues rock band from Lancaster); The Bottlenecks (a great local band who had Paul 'The Rev' Mayers of 'The Prodigy' fame in the band); Steeton Male Voice Choir (one of the oldest choirs in Yorkshire).
Faith & Hope Records Days
After having the most talented pupil any music teacher could wish for, me and my former pupil Neil Claxton established our own little record label called Faith & Hope Records Limited in November of 1997. Although our 'head office' (a grand title for a company with just one employee!) was in Morecambe, we opened an office in Beehive Mill in Manchester (as Neil was living in Manchester) and began signing artistes. I attended my first of many Midem music industry events in Cannes in 1999 and we slowly began to see a modicum of success (not financial).
Between 1998 and 2008, we became a pivotal part of the Manchester music scene, releasing tracks that featured the artistes: Mint Royale, Duffy, Lauren Laverne, POS from De La Soul, Prince Buster, Stone Roses, George Michael, Damien Jurado, Jez Williams, Andy Kim, Clodagh Rodgers, Stephen Fretwell, and Manda Rin. We entered deals with EMI, Parlophone, Sony, Universal, MCA, BMG, and JVC Victor; and had a string of hits – including the 2008 UK #1 Singin' in the Rain.
Our film credits include: Vanilla Sky, Serendipity, Get Carter (remake), Blind Dating, New York Minute, Kung Pow: Enter the Fist, Van Wilder: Party Liaison, Boy A, The Hot Chick, A Time For Dancing, Girls on Top, and Bedazzled (remake); and our Television credits include: The Inbetweeners [title music], Grey's Anatomy, Chuck, Alias, Spaced, Mighty Boosh, Malcolm In The Middle, Shameless, Queer As Folk, Hotel Babylon, Buffy the Vampire Slayer; and our advert credits include: Volkswagen, Hugo Boss, Kelloggs, AT&T, Honda, Mentos, Vodaphone, SKY, Jaguar, BBC Radio 1, Mars, Toyota, DFS, Nokia, New York City.
We went on to have music on compilations including: NOW 70, Ministry of Sound Annual, Top of The Pops, Dance Nation Anthems, The Annual Ibiza, Club Life Selection, Kinky Beats, Slam The Breaks On, Pepsi Chart, 21st Century Disco, Big Beach Boutique II, 24 Hour Psychedelic Freak Out, NOW 42, and Total Dance Volume III; and our artistes live credits include the festivals: Glastonbury, T in the Park, V Fest, Homelands, Leeds & Reading, Creamfields, NME Awards, Isle Of Wight, Festival Internacional de Benicàssim, Lowlands, Pukkelpop, Manifest.
Over those ten years [1998 to 2008], we became "the most successful label in the city" [Manchester Evening News] and added a Press and PR arm (Faith & Hype) in 1998; a club night arm (Art & Science) in 1999; a publishing (Faith & Hope Songs) in 2000; and a music synchronisation arm (Areebo) in 2008. Today, we concentrate of working our back catalogue.
Finally on the Faith & Hope days…. as some of you may know, over the years I've had a few little musical pseudonyms. If Ziggy Stardust was good enough for David Bowie; Dave Diamond, Grandman3, Et al were good enough for me! … but just to clarify, I – Dave Diamond – can't remember playing 'guitar' on Mint Royale's 1999 'On The Ropes' album lol.
Four0Four Days
Monstermob
Knowing that Martin Higginson – who I'd already done a lot of recording work for – was going to set up a new company that I was going to be involved with, I set up a four0four media and marketing recordings in the winter of 1999. True to his word, Martin founded Monstermob in 2000 and brought me in to advise on the business' music offering. Once Monstermob was trading, I became a supplier of Monstermob's ringtone content and went on to help Martin run the whole music channel.
In 2000, I had an awful lot of plates spinning [with Promenade Music, and Faith & Hope Records] and I brought in my friend Neil Gowland to help me with the monophonic and polythonic Monstermob ringtones; and later, my friend [ex Ministry of Sound and Sony music lawyer] David Bloomfield to work for Monstermob on the full-track ringtones. These were very exciting times! Neil Gowland and I built one of the largest ringtone catalogues in Europe; and Monstemob celebrated £19+ million first year sales; a £32+ million market cap floatation (AIM, 2003); and over 25 million downloads a month, with operations in 19 countries, and 10m monthly subscribers.
By 2005, Neil Gowland was no longer doing work for Monstermob – as the monophonic and polyphonic ringtone market had moved on to full-track ringtones – but David Bloomfield and I were still very much involved. By the September of 2005, I didn't like the vibe that was happening within Monstermob's senior management against my friend Martin Higginson, and I [and David Bloomfield] stopped working for Monstermob at the end of December 2005. Sadly, the board of Monstermob ousted Martin in June 2006 even though he owned 17.5% stake; but some of Monstermob's other shareholders voted in favour of a refinancing which gave Spain's LaNetro Zed a 53% stake and in March 2007, Martin returned to the board as a director and some of the board that ousted Martin were ousted themselves.
Purely Creative
For over a ten-year period – August 2006 to June 2017 – myself and Neil Gowland went on to deliver recorded scripts – including voice, sound-bed and effects – for Purely Creative Ltd. After meeting one of the Purely Creative directors (Catherine Cummings) many years earlier, we recorded around 450 scripts for a wide variety of imaginative and exciting prize competitions which were marketed in all the leading newspapers and magazines in the UK and Ireland.
NetPlay TV
In 2007, my friend Martin Higginson had become the chair and chief executive of NetPlay TV. That year, Martin's son-in-law Phil Shaw contracted me to initially create some sound-beds for their 'Play Monday' and 'Big Box Bingo' programmes; and the following year to do sound-beds which would be aired on 'SuperCasino' TV channel [they were the first casino operator to have a live TV roulette channel in the UK] as Martin had done a deal for the show to be on Channel 5 the following year and aired nightly from midnight (1am weekdays) to 3.10am. The show aired for nearly a decade until it was replaced by Teleshopping.
VGTRK
For a three-year period from 2008, I had an advisory role on the potential commercialisation of former soviet state all-union radio official network intellectual property with VGTRK who are also known as the All-Russia State Television and Radio Broadcasting Company. They are a state-owned broadcaster which owns much of Russia's historic broadcasts and work was well under way with the restoration of the old recordings, but unfortunately, the Waves audio restoration suites and part of the archive that were based in Moscow Oblast were mostly destroyed in the Russian wildfires in 2010.