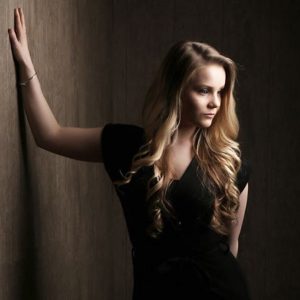 David Wood's daughter Jess Wood is a professional percussionist, pianist, and singer.
Born in 1997, Jess began performing when she was very young, winning the under 10 piano category in a music festival aged 7. Whilst at primary school, she played percussion in the National Children's Orchestra of Great Britain; piano in a jazz trio at the Music for Youth Proms at the Royal Albert Hall London; and aged 10, gained a place to study both percussion and piano at Junior Royal Northern College of Music in Manchester.
Whilst at Junior RNCM, Jess achieved 146/150 in her ABRSM Grade 8 percussion examination; became the principal percussionist with the National Youth Wind Orchestra of Great Britain (aged 15); was a finalist in the Keldwyth Cumbrian Young Musicians Award; and won her way through to the televised percussion final in the 2014 BBC Young Musician competition.
In 2015, Jess won a highly coveted scholarship to study percussion at the World-famous Royal College of Music in London, and has since been featured and quoted in the college's prospectus. Whilst at RCM, she was a member of PERCM (RCM's Percussion Quartet); was principal percussionist for an orchestral project; timpanist for Tchaikovsky's 5th symphony; placed in a project alongside the London Sinfonietta; played on a Hyperion Records recording of Vaughan Williams works (CDA68190); and was the recipient of the 2019 Bell Music Award.
Jess left the Royal College of Music with a RCM 1st class BMus(hons) degree and the prestigious RCM Tagore Gold Medal award for the female student who was judged to have made outstanding contributions musically and in other important ways to the life of the college.
Outside of college, Jess played on the UK Tour of the musical Evita; had the percussion chair on Wizard of Oz at the Storyhouse (Chester); played for The Best of the West End at Royal Albert Hall (London); played with the Royal Philharmonic orchestra, the Philharmonia orchestra; and was involved in function bands including her brother Harrison's The Groove Membership.
After leaving RCM in 2019; Jess got her first percussion chair in the West End at the London Palladium for the production of Joseph and the Amazing Technicolor Dreamcoat. She then moved on to Back to the Future The Musical in Manchester which sadly closed in March 2020 due to the Covid19 pandemic.
In 2021, Jess formed the elua percussion – a female percussion duo – with her friend Heledd Gwynant who she met as a student at the Royal College of Music. The duo have now formed a social media presence, filming and creating numerous videos featuring original percussion works as well as their own arrangements of popular and classical music. Visit their elua percussion website and take a look at their elua percussion videos.
In August 2021, Jess took the percussion chair for Back to the Future The Musical when the show opened at the west end's Adelphi Theatre London.